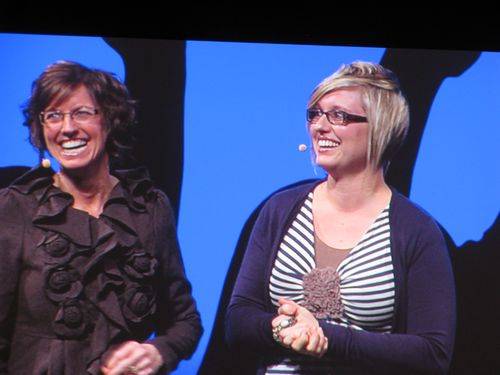 Sara Douglass, daughter of Stampin' Up! CEO and cofounder Shelli Gardner, will be delivering Stampin' Up!'s donation of $300,000 in paper crafting supplies to the 19th Annual TODAY Show Holiday Toy & Gift Drive today, November 29, 2012. Here is a photo I took last January at the Stampin' Up! Leadership Conference of Shelli and Sara on stage. I'm sure Sara will do a great job representing Stampin' Up! I only wish they would give her more than about two seconds to talk about Stampin' Up!  They don't know what they are missing!!
Sara will be featured during the fourth hour of the TODAY Show with Hoda Kotb and Kathie Lee Gifford (generally 10 AM [EST]). Be sure to check your local listings, however, as the fourth hour airs at various times depending on the market.
Shelli is with Sara in New York for the show but says she is relieved that Sara will be the one on TV! I can't wait to watch!
Donations will be distributed to the following organizations:
Action for Boston Community Development Inc., Boston, MA
Arizona Helping Hands, Inc., Scottsdale, AZ
Boys & Girls Clubs Harford County, Belcamp, MD
Cathedral Community Cares, New York, NY
Children's Toy Closet, New Haven, CT
Harlem Children's Zone, New York, NY
Help USA, Brooklyn, NY
Hispanic Federation, New York, NY
Making a Difference Foundation, Virginia Beach, VA
Oklahoma Conference of the United Methodist Churches, Oklahoma City, OK
Operation Homefront, San Antonio, TX
Phipps Houses, Bronx, NY
Project Sunshine, New York, NY
South Central Los Angeles Regional Center, Los Angeles, CA
The Christmas Box Intl., Salt Lake City, UT
St. Margaret's Center, Lennox, CA
Stampin' Up! invites those demonstrators who live in the New York City area, to come join them on the plaza outside the TODAY Show studios!
Hope you can watch this morning!!