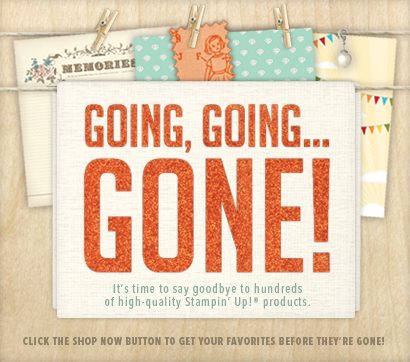 Oh my GOODNESS!!!  Grab your cup of coffee and SIT DOWN!  The Stampin' Up! list of retiring accessories is out today and it is a long one!! It's quite the surprise for all of us! Be sure to remember the accessories are WHILE SUPPLIES LAST! And some will go fast!
CLICK HERE TO SEE THE RETIRING ACCESSORIES LIST!
Some are even discounted at the beginning of the list!!
Correction:  Paper Snips and Craft Scissors are not retiring and were on the list earlier…so therefore are not discounted. If you have or have seen a list with those scissors, it is incorrect and Stampin' Up! has corrected the list.   

Click HERE to go directly to my Online Store to see the retiring products!
When you check the list, you will see that all the ink pads are listed! Holy Cow! BUT…..
Craft Stampin' Pads will now only be available in black and white.

Stampin' Up! is introducing a new Firm Foam ink pad in the new catalog! These new pads will provide better ink coverage and therefore better stamped images. More information later!
Remember, Definitely Decorative and Simply Adorned Jewelry and Charms are also retiring!
Click here to see the Definitely Decorative Retiring List.
More to Remember!
***Be sure you are on my Mailing List (sign up in the upper-left corner of my blog!) to keep up with all the exciting news and details from Stampin' Up! coming out over the next weeks and months!!
I told you to sit down, didn't I!! 🙂
Leave comments below if you want and/or email me with any questions!  You can place your order online or contact me and I'll do it for you or guide you through the online ordering.