Did you know that one way to earn Sale-A-Bration rewards from Stampin' Up! is to purchase a prepaid Paper Pumpkin subscription?!  This is a great opportunity for new subscribers to get a free bonus, and also for past subscribers to come back and get a Sale-A-Bration reward at the same time!
One way to get Paper Pumpkin, a papercrafting kit sent in the mail once a month from Stampin' Up!, is to subscribe monthly.  But during Sale-A-Bration, there is an advantage to buying a prepaid subscription.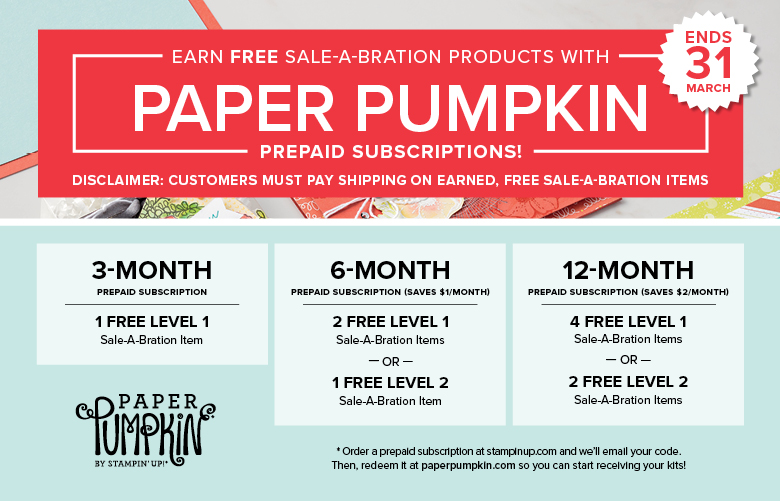 3-Month Prepaid Subscription:  $59  (Earn 1 Sale-A-Bration product!) (over $50)
6-Month Prepaid Subscription:  $114 (Earn 2 Level 1 Sale-A-Bration items or 1 Level 2 item!)  (over $100)
12-Month Prepaid Subscription:  $215 (Earn 4 Level 1 SAB items or 2 Level 2 SAB items!) (over $200)
During Sale-A-Bration you can earn a free SAB item for every $50 you spend on any Stampin' Up! order. To purchase the Prepaid Subscriptions you just go to my Online Store and choose which subscription you want like any order. Since the 3-, 6-, and 12-month subscriptions are over $50, you get FREE Sale-A-Bration!
If you want to save a little money, get the 6-month and save $1 per month or BEST DEAL, get the 12-month and save $2 per month, plus get the most Sale-A-Bration benefits!
Now if you do ONLY order the prepaid subscription, your FREE Sale-A-Bration still needs to be shipped to you so you will pay shipping…..so as long as you are paying shipping anyway, maybe you want to pick up some other Stampin' Up! products in the store! Shipping on Paper Pumpkin Kits is already included in the price.
When you order a prepaid subscription, Stampin' Up! will email you instructions and a code to redeem at paperpumpkin.com so you can get everything set up! If you have any questions, just let me know.
Did you know that CURRENT SUBSCRIBERS can also take advantage of Prepaid subscriptions?  Just purchase which one you want in the Online Store and your regular monthly subscription will be put on hold until you use up the prepaid subscription, then it will resume. So you don't lose anything!  If you are going to pay monthly for Paper Pumpkin anyway, you might as well earn FREE SALE-A-BRATION products at the same time through March! (Note to self!!)
If you need a Sale-A-Bration Catalog with all your choices plus the new Occasions Catalog, let me know and I will be happy to mail you complimentary copies, if you do not already have a Demonstrator that you are working with. I would love to be yours!
If you would like to see the catalogs online, just click the Catalogs rotating photo in the right sidebar of my blog and you will find all the current catalogs on my blog page.
OR Click HERE:
Sale-A-Bration 2018 Catalog HERE
Want to know more about Paper Pumpkin? Watch here to see the January 2018 Kit, just to get an idea of how it all works!
Go check out the Paper Pumpkin Prepaid options during Sale-A-Bration and earn some FREE products!  Once you are a subscriber, you can also purchase any Past Paper Pumpkin Kits that are still available!  You'll be so happy to receive a fun surprise Paper Pumpkin Kit in the mail each month!