We're getting close to November 10th and that's the last day to sign up for November's Paper Pumpkin Kit!
Why should you sign up for Paper Pumpkin?
It's fun to get the Paper Pumpkin box in the mail just for you!
Even those people who aren't big crafters often like to make holiday projects. Paper Pumpkin makes that easy with all supplies included right in the cute box!
It's a treat for experienced crafters to just open the box and GO! No designing a project or pulling out supplies. It's all in the box!
Each kit is easy enough for anyone, crafter or non-, old or young, male or female! Get an extra kit and make yours together or send one to a loved one far away.
What's special about the November Paper Pumpkin Kit?
When you open the box you will find ten little somethings that you might want to hang by the chimney with care—or on a wrapped gift or a neighbor's door!
You won't have to figure out something to make, just open the box!
You must subscribe

 by November 10 at 11:50 PM (MT) to get this Santa-approved kit!  Do it today so you won't forget!
(Last month there was an opportunity for Paper Pumpkin subscribers or those who subscribed after the 10th of the month to purchase the "past" October kit in the Stampin' Up! online store, but they sold out in 30 minutes! No guarantee there will be extra kits this month! Don't depend on this opportunity. Go ahead and subscribe now! If it turns out you are really unhappy with your kit, contact Stampin' Up! and let them help you.)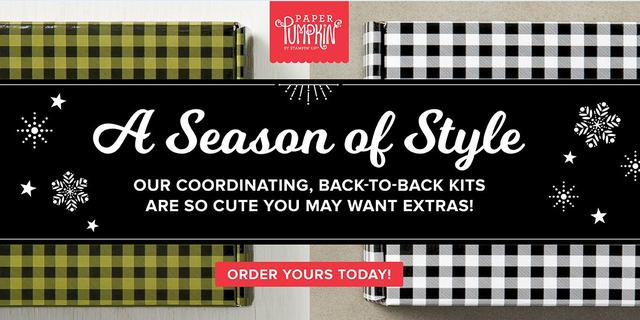 Subscribe today and you will be billed Nov. 13 and kits will ship out!  You will receive an email that that your Paper Pumpkin Kit is on its way! Even if you were a past subscriber, this might be a good time to renew your subscription to get what promises to be a cute kit for the holidays!