Yes, the day finally arrived!  July 1st, a day of great significance to Stampin' Up! fans….customers and demos alike!  The day the new Stampin' Up! 2009-2010 Idea Book & Catalog goes live!!  Just a short time ago Stampin' Up! switched to the new catalog and new merchandise and now ordering is underway!  Demos were lucky enough to be able to preorder certain new goodies a month ago AND get a copy of the catalog!  YOU should really be in on this excitement next time around…and what a great deal!  Besides the new catalog today, Stampin' Up! also announced a new promotion, "Have Fun Doing What You Love" for becoming a demo for only $85.  And the Summer Fun continues with a Weekly Special, the "Deal of the Week" during July!  Right now you can purchase the Scallop Edge Punch for 30% off from July 1 – July 5.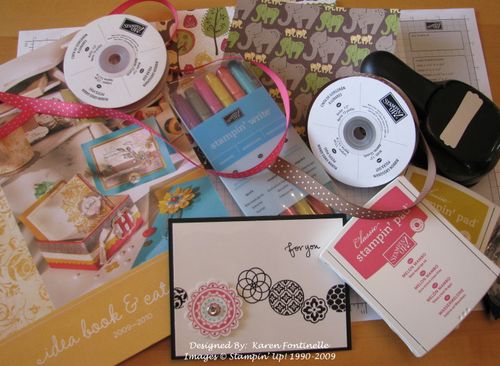 Contact me at KSFontinelle@gmail.com right away to get your own copy of the beautiful new catalog and see all the new In Colors!
Look online NOW to see the catalog and all the new goodies!  You can order 24/7 from my website or contact me any time!
*Note:  Demand for the In Colors may be high and there may be temporary backorders.  The Bermuda Bay ink pad and refill are not available at this time due to quality issues.