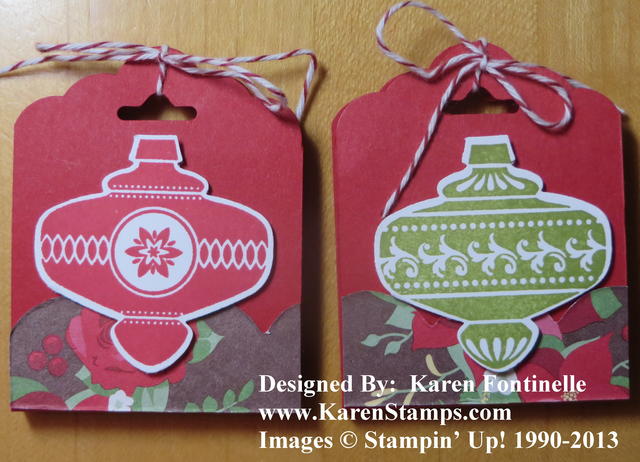 It's been a busy few days getting ready for Christmas and my work isn't done yet! But I did take time the other day to make these cute little Ghirardelli chocolate holders mixing old and new Stampin' Up! products! Can you guess what is what? The holder is made out of the brand new, upcoming Scalloped Tag Topper Punch, which will be in the new Occasions Catalog beginning January 3, 2014. The old is the bit of designer paper I used on the tag.  It is left over from the pretty Christmas box I finally made last Christmas, which, for awhile was on the Clearance Rack. The kit started as some kind of incentive from Stampin' Up!, then was sold, and then the remaining ones were in the Clearance Rack.  Shelli Gardner and her daughter Sara even made a video as they assembled their own boxes.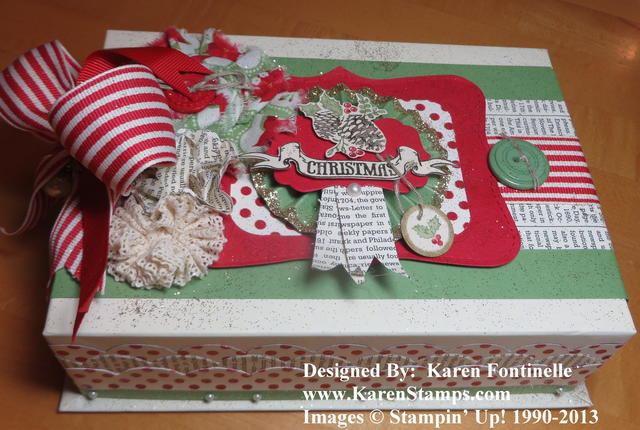 I got the idea for the chocolate holders from another demonstrator, Mary Fish, although I used a different punch. There is another one with an angled top! Of course I also used the Christmas Ornament Punch in the Holiday Catalog to punch my stamped ornaments from the Christmas Collectibles Stamp Set.
To make the Ghirardelli Chocolate Holders, cut a piece of card stock 5 1/2″ x 2″.  Score at 2 5/8″ and 2 7/8″. I stuck each end of my paper into the new tag punch to get the fancy scallop and then folded on the scored lines.  I folded back the Ghirardelli Chocolate foil and adhered with a Mini Glue Dot on each side to hold it onto the tag. Then I folded up the front part of the tag and tied with Cherry Cobbler Baker's Twine.  And then I decorated the front with the old designer paper (can't think of the name right now!). Of course you could use any scrap paper and for any season or occasion.
 And this is what the inside looks like: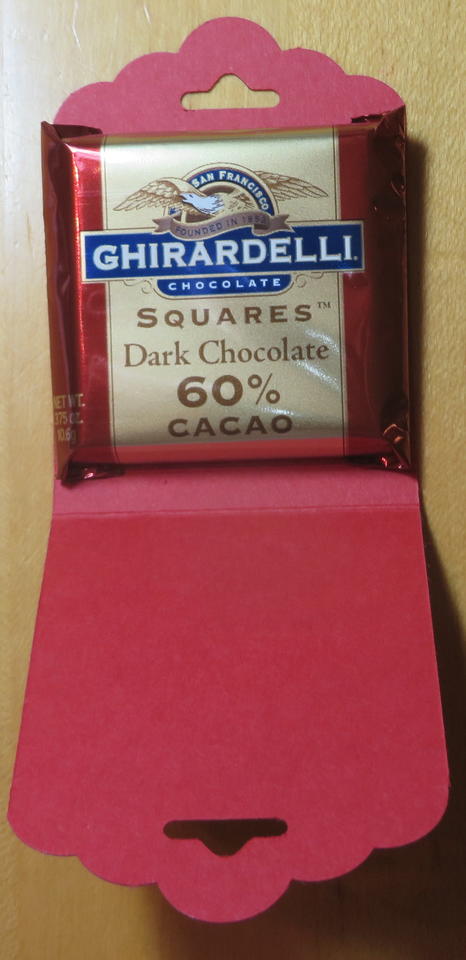 And here are some matching tags I made. All these things plus a store-bought ornament went inside the box I was sending someone.
You can visit my Stampin' Up! Online Store HERE. Be on the lookout, my regular customers, for your copy of the new Occasions Catalog and the Sale-A-Bration catalog coming in your mail!  Don't let them get lost amongst the Christmas mail and hubbub!