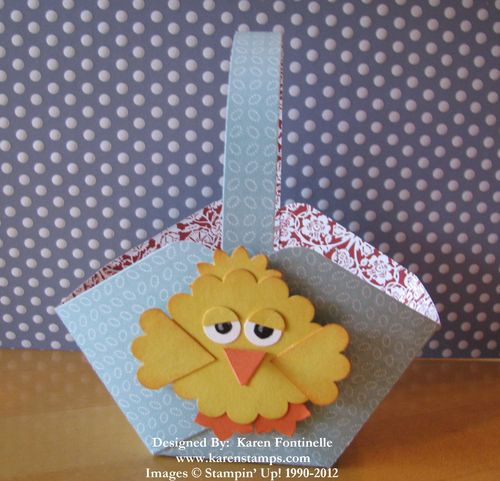 This little Easter Basket with a punch art chick has been around for a long time and is so easy to make! You can use card stock or designer series paper. You can decorate or embellish however you like, for whatever occasion.
To make the basket, just start with a square piece of paper.  I used a piece of Twitterpated Designer Series Paper #125406 for my basket. The double-sided paper makes for a nice lining also!
Score your paper into three equal parts.  My paper is 6"x6" so I scored at 2" and 4", turned and scored again also at 2" and 4". It will look like a tic-tac-toe board when you are finished.  You can use the Paper Trimmer to score or the fun new Simply Scored Scoring Tool #122334.

After scoring, you need to cut the flaps apart as shown the photo below.  Just cut on the score line down to the next score line. If you want, round the corners on the flaps that will be visible on your basket.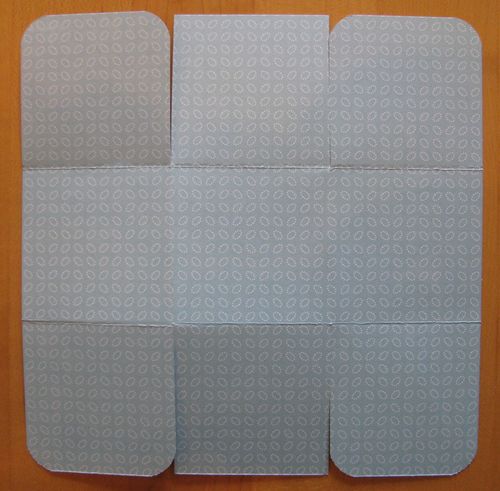 Cut a strip 1/2" x 8" (for this size basket) for the handle.

Adhere the flaps together to form a basket.  I prefer the Tombow Multipurpose Liquid Glue #110755 just because it allows for a bit of time to get everything placed where you want it. But you could also use SNAIL or Sticky Strip. Also adhere the handle.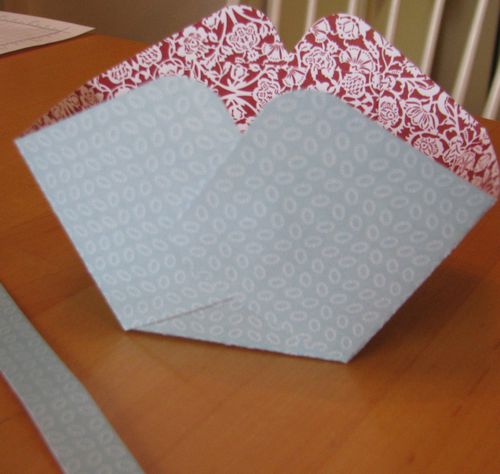 For the punch art chick, you can make him lots of different ways with different punches, so just play and experiment if you like!
Use the  3/4" Scallop Circle Punch #119854 for the body.

Use it also for the chick's wings….just cut into smaller pie-shaped pieces.

For the little tuft on top of his head, use the Boho Blossoms Punch #119858. Use this same punch with Tangerine Tango to punch two feet…just hide part of the punches behind the chick to show a small portion.
For the eyes, use the circle punch in the Itty Bitty Shapes Punch Pack #118309.  Punch two white circles and one yellow.  Cut the yellow in half for the eyelids.  Either punch a smaller black circle or just color in the white with a black marker. Highlight with a little white Gel Pen. 

For the beak, just cut a very small square of orange and fold in half. 

Sponge most of the pieces if you like a little shading.

Assemble your cute little Easter chick and attach to Easter basket!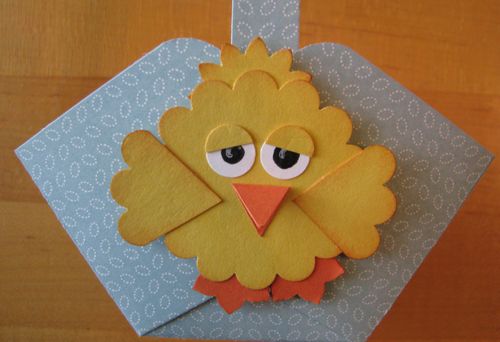 Make one of these Easter Baskets today and see how fun they are to make!  You could make a punch art bunny.  You could stamp a flower or animal or Easter bunny on cardstock, layer and attach.  To any of these, you could add a tag with a name and use for a place card for your Easter table.  Fill with some Easter grass and treats and you're all set! Have fun!! (Bet you can't make just one!)