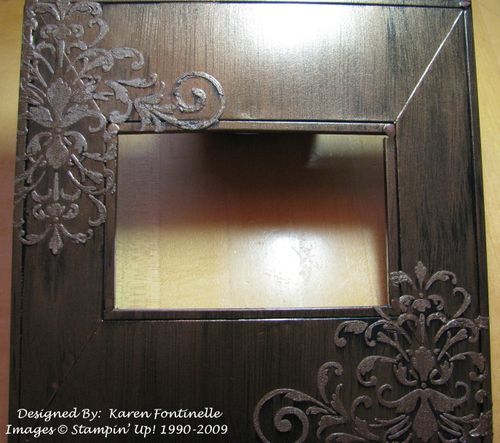 Last week I saw this project on Kimberly Van Diepen's blog  and I loved it so much I ran right out to Hobby Lobby to find the same frame!  In case you do the same, I'll save you a few steps and tell you it is back in the Crafts section, not in with the picture frames or home decor.  I didn't realize she had made hers with the light colored frame so I bought a dark frame.  Next time (and I can't wait to go back and get another one or two!) I'll choose the light colored one, I think you get a better contrast.  But it's neat either way, I think!
So let's back up…..I bought the metal frame, called "Craft Photo Frame" "Time to Decorate!" 4×6 inch.  I had already purchased the Stampin' Up! "Kind Thoughts Brocade Stencil" in the Decor Elements line.  Mine is the "Small" size but I think it worked just fine.  I already had some "Dreamweaver Stencil Embossing Paste" (you can see it in the corner of the photo) from my pre-Stampin' Up! days and a palette knife.  I placed the stencil where I wanted it on the frame, taped down two sides, and slathered on the embossing paste with the palette knife….just like frosting.  Then I turned the palette knife on its side to scrape off the excess paste.  Just lift the stencil up and you have your design on your project.  Now be very sure not to let the paste dry on your stencil, so be ready to wash it off right away.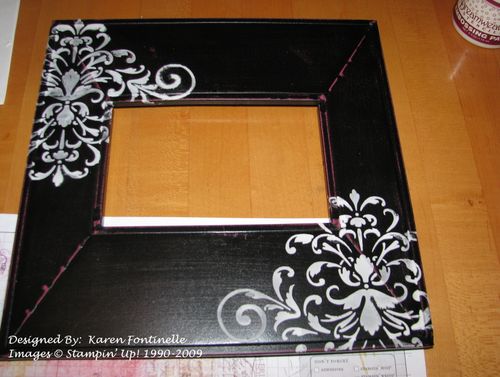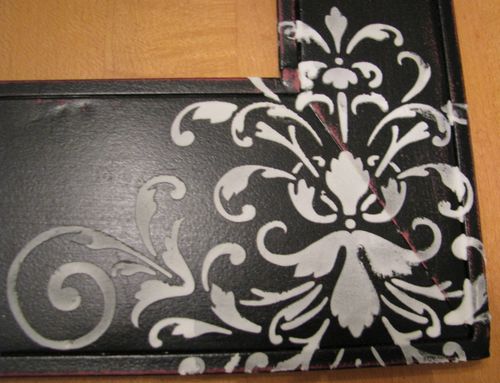 I let mine dry overnight since it was late anyway, but a couple hours should do it.  This morning  I used a foam brush to apply the "DecoArt Elegant Finish Metallic Glaze".  Mine is the Renaissance Brown color.  This step was SOOO easy.  Just brush the glaze on rather lightly.  You can go over it a little bit if you get too much on or not enough.  You could probably even do a little wiping with a soft cloth if you want, but I wouldn't rub on the embossing too much.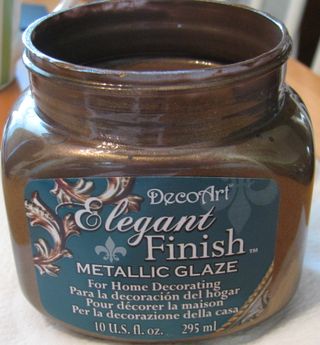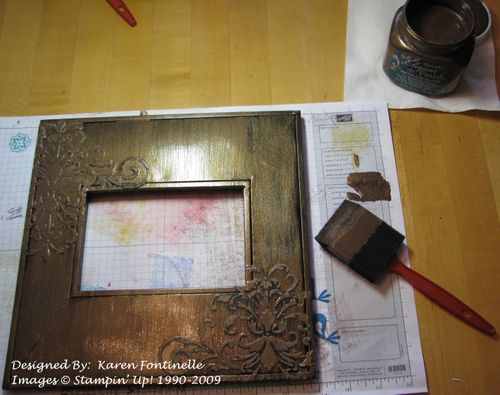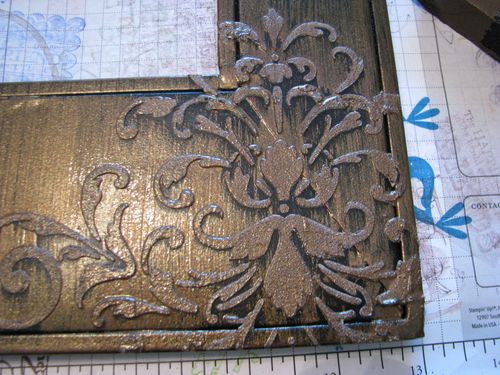 That's all there is to it!  Now you can see stencils aren't just for walls!!  If you want to see the Decor Elements Catalog so you can order your stencil, click HERE.  Contact me if you have any questions or want your own copy of the catalog.