It's no April foolishness……the beautiful new Stampin' Up! Occasions Mini begins today!  While everyone has had a sneak peek recently in order to get those cute Easter sets in time, today is when the new Occasions Mini REALLY starts!  Mini catalogs have really come a long way since I started with Stampin' Up!  Not only does this mini have wonderful new stamp sets, but it also has new Designer Paper (Walk in the Park), new ribbon (Whisper White Satin), new Corduroy Buttons (Baja Breeze and Basic Gray…and yes, they really are covered in corduroy!), new Rub-Ons (Summer Love), a NEW PUNCH (Scallop Oval…you'll want to add this to your collection!!), Window Sheets (printed and plain), new Designer Hardware (Grommets!), new wheels, and….. (drumroll, please!)…..the new Matchbox Bigz XL Die!!!  This die that of course works with the Big Shot cuts a very cute little box and lid plus three tags!  There is also a matching stamp set, Matchbox Messages, that you can use with this die.  And with the new Window Sheets, you can make clear lids or matchboxes.  Lots of creative possibilities with this die! 
Look at my project below and then click on the Occasions Mini picture above right to view the catalog.  If you didn't receive your mini in the mail, contact me with your mailing address and I will send you one.
Here is a little box I made!  Four Hershey Nuggets fit perfectly inside.  You can cover them with Designer Paper to decorate.  I used my Scallop Circle Punch to punch the lid and put a clear Window Sheet piece under it.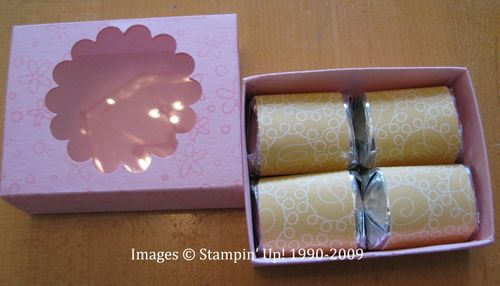 I stamped the box with the flowers from "A Good Egg".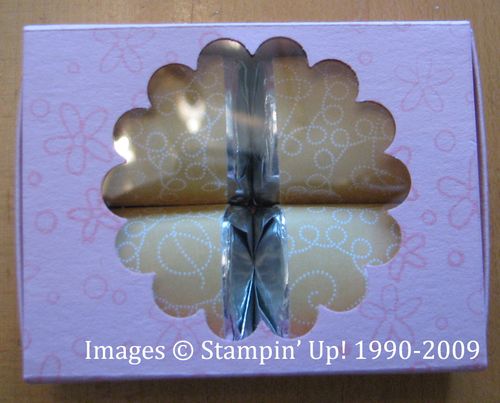 And just a little tag from the new "Matchbox Messages" to tie on to finish the box!  Cute little gift!