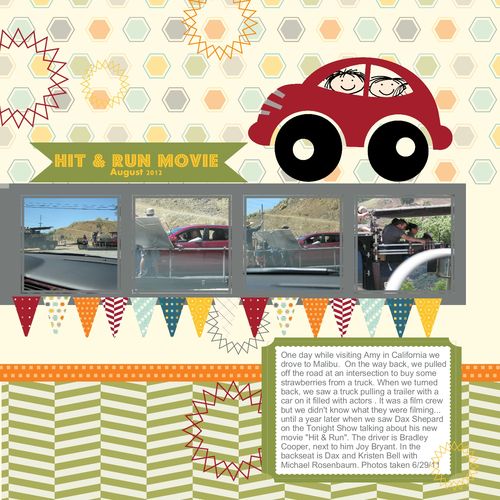 All images copyright Stampin' Up! 2012
After relating my story in yesterday's post about seeing a portion of the filming of "Hit & Run" movie with Dax Shepard, Kristen Bell, Bradley Cooper and several other stars last summer in California, I made a digital scrapbook page today with my photos with My Digital Studio by Stampin' Up! I simply chose a template that was already in my collection, added the photos, added and COLORED the red car (a new feature of MDS Version 2…oh so fun!!!), and added the text box. I added a few faces in the car windows from the digital stamp set "All in the Family".
It is truly AMAZING what improvements Stampin' Up! has made in this version of My Digital Studio!  The more I play with it, the more I have to encourage you to try it!! Please consider getting the My Digital Studio Free 30-Day Trial and experience it for yourself.  There are plenty of videos online at www.mydigitalstudio.net to teach you how to use it…but the best thing is just to get in there and play!  You CAN do it!!
To get the Free Trial or to purchase My Digital Studio, please go to my Online Store.