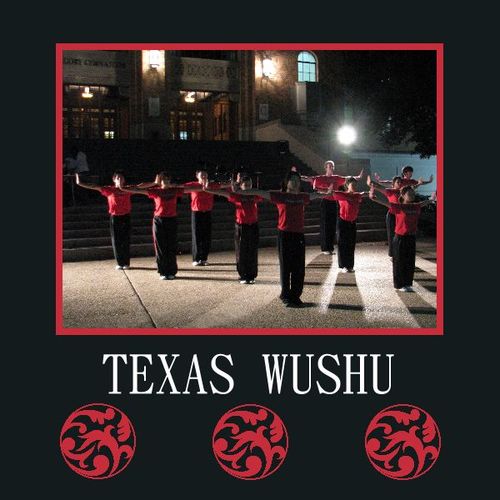 Last weekend we got to go to Austin to visit our boys, although one was sick so we only saw him as we dropped off an order of chicken soup from the restaurant where we had dinner!  We were lucky to be there in time to see our son, Steven, do his Wushu demo for a campus club.  This is just the "Demo Team", a group chosen for their skills and dedication to the practice and the sport.  The kids were all amazing in their skills, and the audience, who had been milling around, talking, and eating, all stopped to gather and give the Wushu team their full attention.  Wushu is Chinese martial arts like you might have seen in the move "Crouching Tiger, Hidden Dragon".
Since I was learning how to make an "interactive album" with the new Stampin' Up! My Digital Studio, I decided to try making an album using my Wushu photos and video.  I don't think the video will play on this post, which is a good thing since I probably need to edit it first, but this is a page I made with My Digital Studio. After designing the page, I embedded? one of my video segments into the photo.  I can burn it to a DVD or I can email it to my son and the video(s) will automatically play on each  of the pages as they are viewed!  It was an amazingly easy project to work on, for being so "technical", what with including video!  Now I need to go finish up the album and email it to him for a birthday gift today!
There are SO many things you can do with My Digital Studio!  You really need to check it out!!