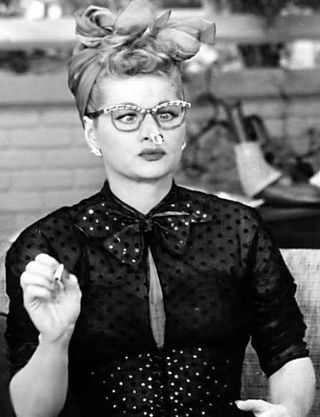 Whenever I hear one of those questions like "What famous person, dead or alive, would you most like to meet?" or "What celebrity would you like to have dinner with?" I realize I am not too starstruck because there aren't many names I would use to answer that question.  But Lucille Ball would be one of them!  
Today would have been her 100th birthday and 60 years after she started her famous television show "I Love Lucy".  The show first aired in October 1951.  I don't know when I first started watching it, but to hear "I Love Lucy" or to hear the theme music of that show takes me back to my childhood.  The show was on at 9:30 am, which means I could only watch it during the summer (if I was up early enough) or on days when I was home sick.  Even if I was sick, it wasn't too bad to get to stay home and lay on the couch and watch "I Love Lucy"!  I can't imagine how many times I saw those episodes over and over and over again….and they were always hilarious!  In later years, Lucy had some shows with Ethel that were shown in the evenings.  My family and I loved those too!
There is a new exhibit that just opened dedicated to the "I Love Lucy" show at the Library of Congress.  Raymond White, the curator of the exhibit, said,  "The Lucille Ball and Desi Arnaz papers at the Library of Congress provide a unique opportunity to view the development of the show from the perspective of their family–in terms of the items that were preserved in the family scrapbooks, and this was our point of departure for the exhibit," he says. "…the scrapbooks contained a wealth of materials documenting the early careers of Ball and Arnaz…and a treasure trove of photographs that present the extremely photogenic Ball and Arnaz in the height of 1940s Hollywood glamour."
So you never know where your scrapbooks might end up!  Consider the importance they might have in history!
Click HERE for more information on the Library of Congress exhibit. Sounds to me like scrapbooking played an important role!