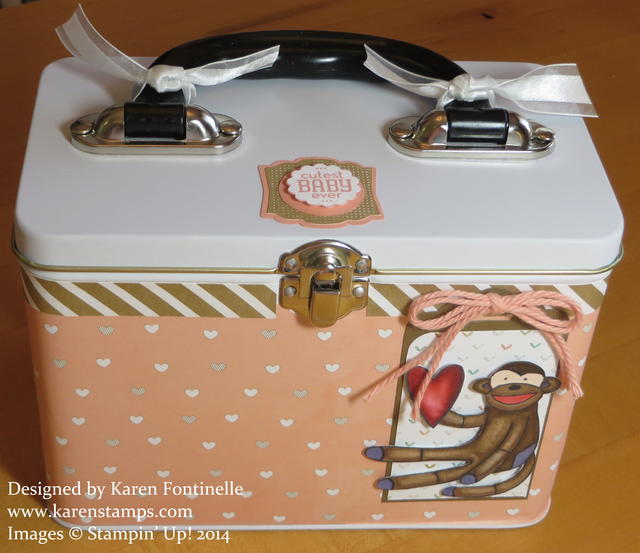 Hopefully this will be a handy
baby shower gift
for the new mother. I used to use a (clean) paint can that I wrapped designer paper around and decorated, but since I had these "purse tins" in my stash, it will serve the purpose just as well. While the new mother can use this for anything she wants, the purpose of it is for the mother to write a little note to herself about the baby – a milestone, a funny story, a baby first, etc. – and just stick it in this can to remind her to write it down in the baby book later when she has more time! Someone came up with a poem (YEARS ago!) and I've saved it and printed it out on a tag that I enclosed in the tin (but didn't take a photo of). I also decorated a little notebook and pen with the 
Lullaby Designer Series Paper
for her to write the notes to herself. The tin is wrapped in the
Lullaby Designer Paper
in two pieces.  One strip doesn't completely wrap around. I started by adhering the back piece, using the
Liquid Multipurpose Glue
(in the green bottle). In the past, I have used
Stampin' Glue Sticks
on both the paper and the container on these kinds of projects and they worked well. Right now I don't have any new glue sticks to use so I better put them on my next order! But I like using the Tombow Glue because it gives you some "wiggle room" to get the paper placed exactly how you want it.
Sticky Strip
works but you have to be very careful adhering the paper so that it goes in the right place or things become very "sticky" and difficult to move! So if you adhere the paper on the backside first, when you apply the paper on the front, the edges on the side will overlap facing the back which just looks a little nicer. I used to try to cover the top with paper, cutting out around the handle and on the front cutting out around the latch – but that is all too much trouble!  Now I do it the easy way! Just decorate the lid some other way! I used my retired
Sock Monkey stamp
because it sort of matched the expectant mother's nursery decorations. I even kind of altered the Sock Monkey to color it like the nursery decoration. And I used my new Blendabilities to color him. The tag on the front has a bow made with the
Crisp Cantaloupe Thick Baker's Twine.
The decoration on top of the tin is from the stamp set
Label Love
. Just tying some ribbon on to the handle adds a nice touch, like my favorite ribbon,
Whisper White 5/8″ Organza Ribbon
.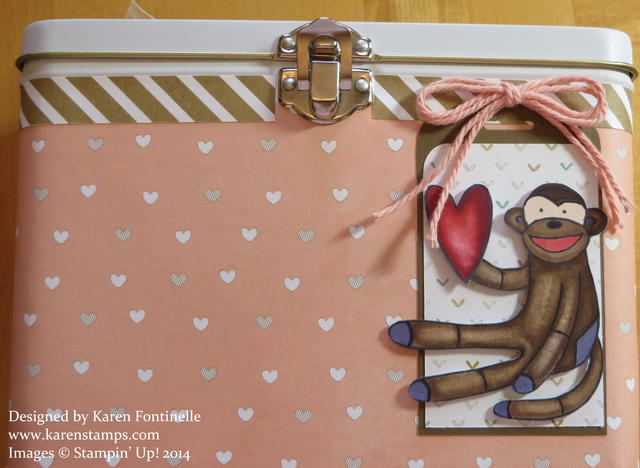 Here's a photo of the little notebook I covered with designer paper and stamped a little title for
Baby, We've Grown
. The pen is another oldie but goodie:  Use an RSVP pen that has a clear barrel and you unscrew the top part and insert a small rolled up piece of designer paper to show through the barrel.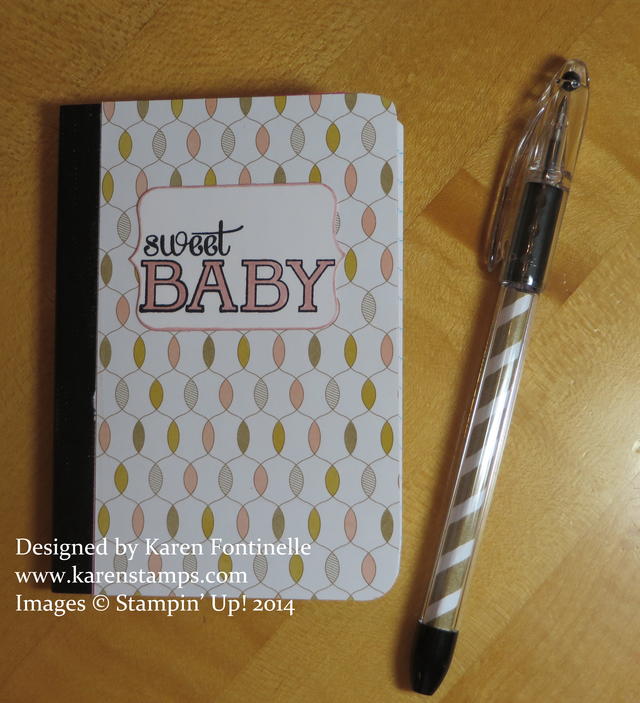 Take advantage of the special offer on designer series papers this month of July,
Buy 3 DSP, Get 1 Free.
Visit my
Stampin' Up! Online Store
24/7. If you have any trouble, I'm happy to put your order in for you.