To get National Scrapbooking Month started off right, Stampin' Up! has a video with Carrie Cudney for you to view.  It features some of the new products in the Summer Mini Catalog and some ways to use the free Designer Brads you can receive by purchasing select stamp sets in the Stampin' Up! Scrapbooking Month Promotion.  We always enjoy seeing Carrie Cudney present at Convention or Regionals or in online videos and see her wonderful ideas.  Hope you enjoy it, too!  Just click on the photo below to go to the video on the Stampin' Up! website.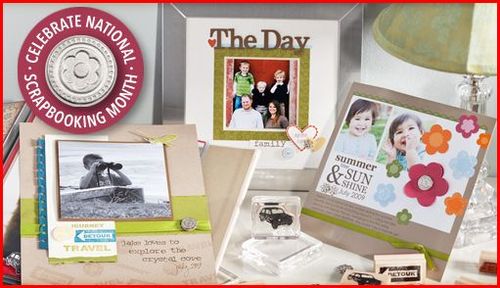 Copyright Stampin' Up! 1990-2010
After you watch the video, if you would like to order any of the items in the new Summer Mini and get an early start on the new products just go shop at my Online Store or contact me if you like.  And if you would like to become a Stampin' Up! Demonstrator and start your own business, let me know and I can tell you how easy it is to sign up and what you will receive!