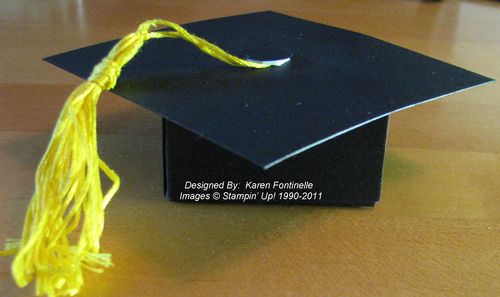 Graduation is upon us and this little graduation cap favor or gift box might come in handy. Underneath the top of the cap is a box with a lid that could be used to hold a small graduation gift or be used as a graduation party favor!  The tassel is made with DMC floss, poked through the center of the top piece and covered with a small punched circle….just like a real graduation cap!  You could make this any size you need, from tiny to large or a matching color for a particular school.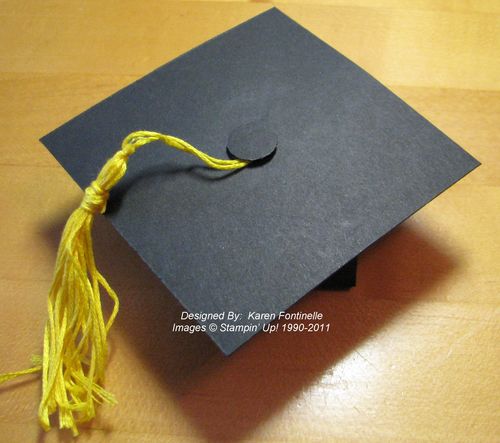 Use any box template you like.  This particular sample is made with a 4" square of card stock, scored at 1" on all sides.  Cut one of the score lines on each side from the edge into the intersecting score line to form little tabs to help you fold into the square box.  This makes the lid.  To make the box bottom, start with a slightly smaller square of card stock…I used 3 7/8" square and score again at 1" on all four sides.  This will insure that the bottom will fit inside the lid. For the top of the cap, I cut a 3 1/4" square of card stock and attached the tassel.  If indeed you wanted something larger or sturdier, you could use some thin cardboard (such as what comes with designer paper) as the cap top and wrap it in card stock.
It's fun to add your personal touch to a graduation party or event!  And Stampin' Up! supplies are the best for any project!  Order yours at my Online Store or contact me.