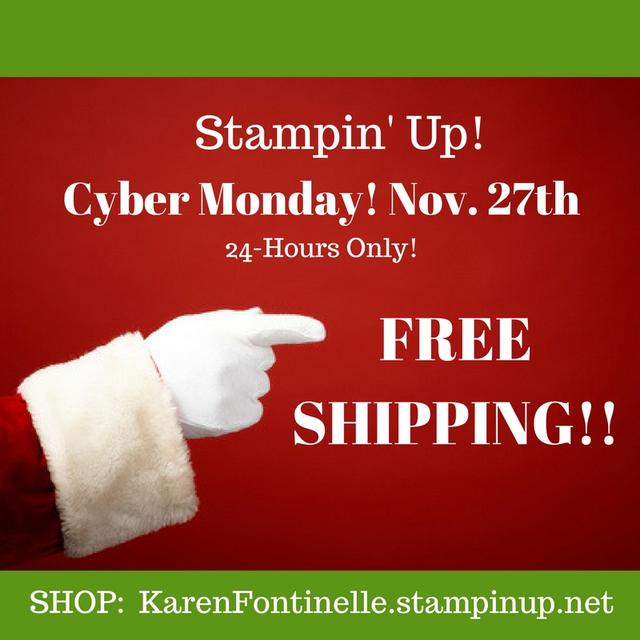 Stampin' Up! Cyber Monday Special:  FREE SHIPPING!
A pretty rare special from Stampin' Up! to offer FREE SHIPPING, but  certainly one we all like! Be sure to check over your "Need" list and your "Wish" list and decide if this is a good time to order! You have plenty of time to get your order for making Christmas cards and gifts or to order something for a gift for someone! Write out YOUR Wish LIst and have your loved one order for you and get what you REALLY want for Christmas! They will save on shipping! It's a win-win!
FREE SHIPPING runs from November 27 12:00 AM to November 27 11:59 PM MT.  Stampin' Up! is in Utah, in Mountain Time, so always keep that in mind in figuring times!
***************
Today, Nov. 26, is the last day of the Stampin' Up! Online Extravaganza, so be sure to  check out those sales and deals!  The Online Extravaganza Deals end on Sunday, November 26 at 11:59 PM. MT.
Figure out which is best for you – Order today to get the Extravaganza Deals or order tomorrow and get FREE SHIPPING from Stampin' Up! on Cyber Monday!