Here are some examples of easy scrapbook pages to make for Christmas and how to tailor them to the size of scrapbook you want to use. These are called Progressive scrapbook pages and really designed for a Stampin' Up! demonstrator to show a group of people examples of scrapbook pages regardless of what size page they might want to make in the end. However, if you are new to scrapbooking, this also is a rather easy way to start small and work up to a larger page.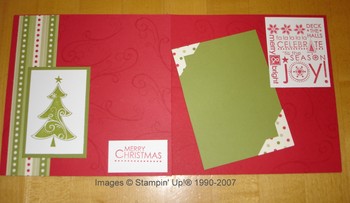 Actually, this 2-page spread started as a 6×6 card using a 6×12 piece of Real Red cardstock with a fold at the top. It really could be used as a card to give or mail with a photo enclosed on one or both pages. In my demo, I cut the card apart at the top fold and… voila!…you have a 6×6 scrapbook layout! I used the Season of Joy stamp set from the Holiday Mini along with the Dashing Designer Paper which is so popular right now in the Fall/Winter 2007 Collection.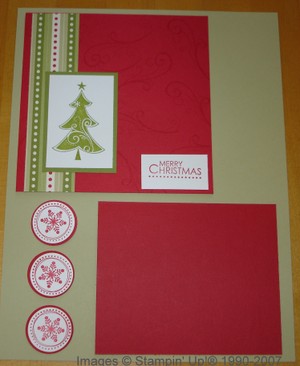 Next I added one of the 6×6 pages to a piece of 8.5 x 11 cardstock. I added another photo mat and stamped some embellishments for the side. You can modify this layout different ways, just play with it! Now the extra space can be used for journaling or more photos.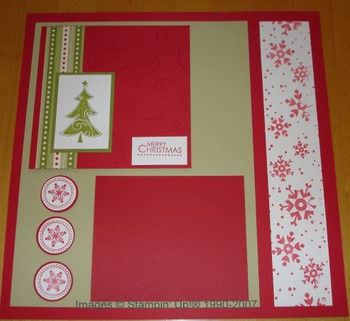 If I wanted a 12×12 scrapbook page, I could lay the 8.5 x 11 page on top of a 12×12 page. This leaves some space on the side, so I wheeled a strip of Whisper White with the Stampin' Around Jumbo Snowflakes Wheel. I could also have used an alphabet set to stamp a title along this strip. Very easily you have a great scrapbook page layout for your Christmas photos!
I think this is a good method to use even when you know you are trying to design a 12×12 page because it breaks it all down into smaller steps.