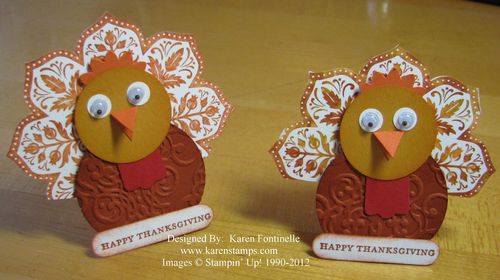 The Day of Gratitude stamp set by Stampin' Up! can also make a great turkey favor for Thanksgiving! If you need a little something for your Thanksgiving table, class favors for the kids, or just some fun little decorations for Thanksgiving these will fill the bill. Of course there are many variations you could do after you get started.  I often think I am going to copy something exactly and end up with my own version.
Instead of the "Happy Thanksgiving" from the must-have stamp set Teeny Tiny Wishes (and I do recommend for these small stamps that you spend the extra money and get the wood-mount) you could write a person's name for a place card at the table. The body is punched with the 1 3/4" circle and the head with the 1/4" circle punch. You could stamp a little texture on the circles or run one or both through the Big Shot with an embossing folder like I did on the body.  I used the Lacy Brocade folder in the Stampin' Up! Holiday Catalog. The gobble-thing is half of the Modern Label Punch. The beak is just cut by hand. The thing on top of the head is from the Boho Blossom Punch. The tail feathers are the medallion in the Day of Gratitude stamp set. I tried to get them each multi-colored but I don't think the colors contrasted enough. You could also color each section with a different color of Stampin' Write Markers. The feathers are adhered with Stampin' Dimensionals on the back of the turkey.
I would probably use some candy like Hershey Nuggets for the back, but I don't have any (amazingly!) so I used some Hershey Kisses.  It worked just as well.  If I used a Nugget, I would cover it with a strip of designer paper first.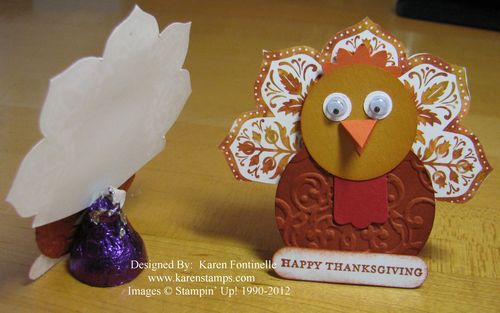 For the eyes, you can just punch out black and white circles, or since I had some Googly Eyes left over from Halloween, I used those.  You probably have some in your craft stash, too!
Just a fun little Thanksgiving treat!  Hope you enjoy!