You may have heard that Dax Shepard, Kristen Bell, Bradley Cooper and others are starring in a movie called "Hit & Run". My husband and I saw Dax Shepard on "The Tonight Show with Jay Leno" on Wednesday night and watched the clip they showed from the movie….well, at least my husband was watching, I think I was very tired or distracted…I wasn't paying that much attention! Something kind of clicked with my husband, and I was going to check it out yesterday…but forgot…until he reminded me at dinner….so I checked after dinner….and sure enough…mystery solved!!
First, watch this clip about the movie "Hit & Run" from The Tonight Show. They start talking about the movie at 1:18….although his Costco story is pretty funny first!
Now the rest of the story:
A year ago June we were in California visiting our daughter and made a trip with her to Malibu one day.  On the way back, at an intersection, there was a truck selling strawberries.  There was a big pull-out area so my husband pulled over but we decided to wait for strawberries until we got back to my daughter's neighborhood.  As my husband pulled the car back around, this truck and trailer were pulling into the intersection across from us.  On the trailer was a car with passengers and obviously some filming of some sort was going on….we were near Los Angeles, after all!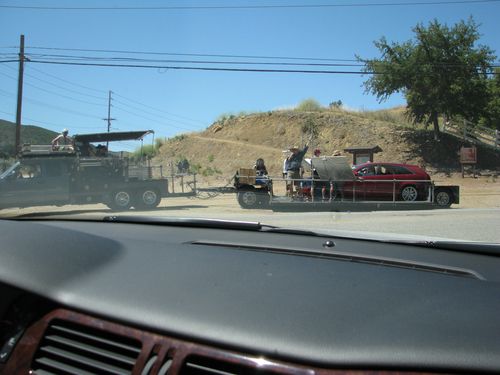 I took some more photos….the people in the car seemed to be looking at us and maybe even waved while they waited for the light to change at the intersection. Not something we usually see in Houston for sure!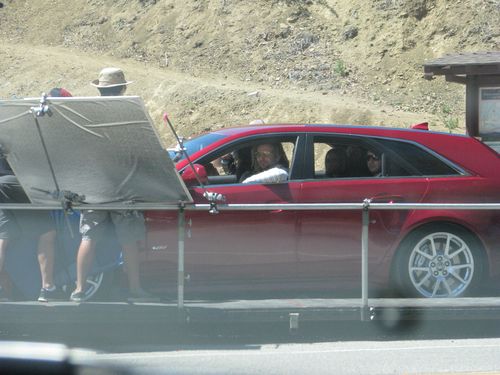 That evening we showed our son-in-law, who is quite the TV and movie buff, and he thought the girl in the back seat might be Kristen Bell! Obviously we didn't know what they were filming, couldn't see the actors very well, and figured we would NEVER know what we had just seen….it could have been a movie, a tv show, a commercial, a documentary, anything…and might never make it out into the world….until we saw Dax Shepard on the Tonight Show Wednesday night!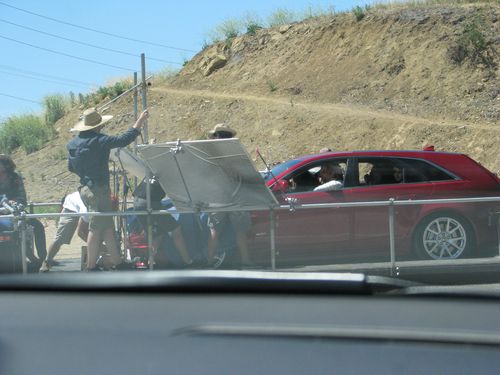 If you can enlarge any of the photos and zoom in, you can see it is Bradley Cooper as the character driving the car with the big yellow sunglasses and striped shirt. Next to him in the front seat is Joy Bryant. Kristin Bell is in the middle of the back seat of the car next to Dax Shepard on the far side of the car, and I think Michael Rosebaum is behind the driver.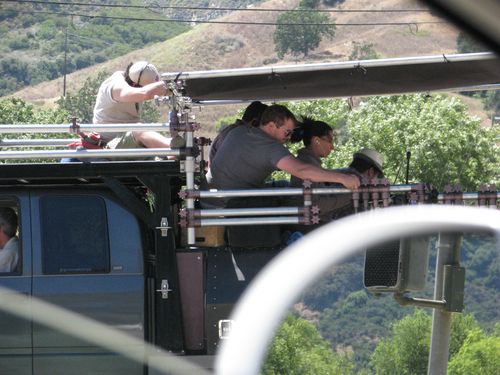 After you look at the photos, go back and look at the clip from the Tonight Show! We think it is SUCH a coincidence that we saw this sight on the road back from Malibu and that it showed up in a clip of the "Hit & Run" movie on the Tonight Show with Jay Leno!
This was so exciting I don't think I can even stamp today! Although….maybe this would be perfect for a scrapbook page made with My Digital Studio, the digital papercrafting software from Stampin' Up!.