Happy New Stampin' Up! Year!  Yes, today is the day for the new 2010-2011 Stampin' Up! Idea Book & Catalog!!  Out with the old and in with the new! Right this minute Stampin' Up! is changing everything over online to the new catalog, so if you wait until this afternoon ( 1 pm Central time) you will be able to shop online and view all the new catalogs.
Here is a project I made with the new products!  I used the Big Shot (#113439) to die cut the Box #2 (#114518) out of the new card stock Daffodil Delight (#119683) and then decorated it with the Greenhouse Gala Designer Series Paper (#117167).  I used the same sheet, both sides, for the little band of paper around the middle and from the other side I cut out several flowers and leaves with my Paper Snips (#103579) (which make such cutting easy!).  You MUST put this Greenhouse Gala DSP on your first order from the new catalog because it is beautiful!  It will put you in a good mood just to look at it!  For a finishing touch, I added a little of the new 1/8" Taffeta Ribbon (#119254).  When I first saw this ribbon I wasn't sure I liked it because it is so very narrow, but when I used it today I just loved it!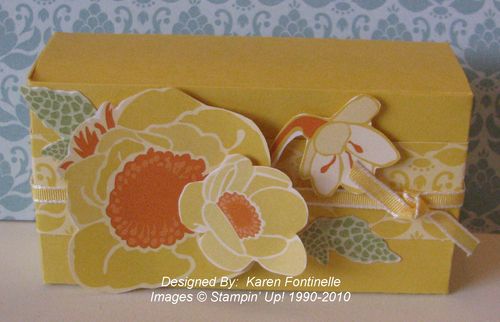 Such a fun little project that just brightens up your day to make it!  Think what it would do for someone if you put a little treat inside and gave it away!
Check back later when Stampin' Up! is up and running with new, new, new products!!!!