Here's an oldie but goodie, although I don't think I'd ever done it this way before.  It's a tile magnet, one of the little 2"x 2" tiles that come all attached to each other in a sheet.  I'm sure I bought them at one of the home improvement stores a long time ago.  I would assume they still sell them but I don't know for sure.  They're not the super-slick ceramic ones.  To separate the tiles from the others I just used a good household scissors and then kept slicing away at the little stubs of adhesive until they weren't visible from the front.  Maybe you could use a hobby knife.
Now you could just stamp on the tile with Stazon ink, but somehow I had stamping on tissue paper in my head.
Cut a piece of tissue paper 1 3/4" x 1 3/4".

Stamp on tissue paper with Black Stazon and color in however you want.  I used a blender pen and Stampin' Write markers.  This Christmas tree is from Fun & Fast Notes.
Apply Versamark ink directly to the front of the time generously and then sprinkle with Glassy Glaze Enamel (#100477), dumping off excess, just like glitter.  Heat with the Heat Tool (#100005) to melt Glassy Glaze.  This seemed to take awhile for the Heat Tool to get hot enough and probably because the tile is a little cool but you will see when the Glassy Glaze really melts completely.

Very carefully apply your stamped tissue paper piece to the top of the tile. Don't burn your fingers!  I pressed it down a little harder with a wadded up paper napkin.

Apply Versamark ink directly to the tile again and repeat with Glassy Glaze and heat.

Do that one more time!

Attach a strong little magnet to the back of the time.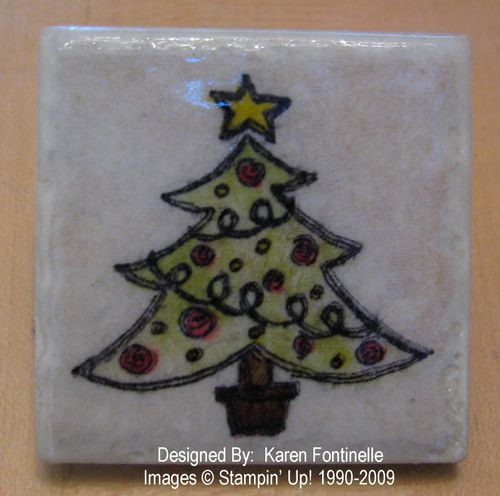 You can barely see the bit of shine from the glaze on the top of the tile, but it is there.  You could even wrap a piece of grosgrain ribbon all around the sides of the tile if you wanted.
Have fun stamping, and if you have any questions about this project just contact me!