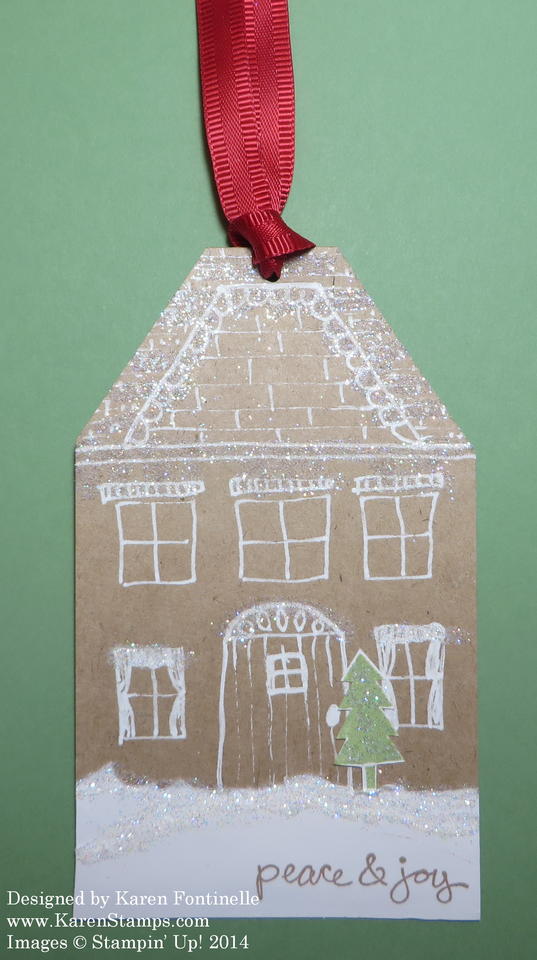 This Christmas Snowy House Tag came about after browsing the internet for some inspiration for a Christmas card or tag! There were some scrap pieces in the bag of Kraft 12″ x 12″ Card Stock (which is a little heavier than regular card stock) so I decided on a tag.  This one is a little wide at 3″, but it is fine and I just cut off the top corners. Once I did that, it looked like a house, so I decided to take my White Signo Gel Pen and draw in the house features! I felt like a little kid drawing a picture with not a care in the world for how perfect or imperfect it was! Oh, you couldn't tell it was hand-drawn because it is so meticulous??!!! I don't think so!!  Anyway, it was fun and we'll see if it ends up on somebody's Christmas package this year!
After drawing in my house with my White Gel Pen, I just tore two scraps of Whisper White irregularly for the snow on the ground and adhered with the Liquid Multipurpose Glue. The little tree happened to be stuck on my end table (I don't know why) so after seeing it laying there, I thought it would look perfect as an accent with this snowy house!  Then I took my trusty 2-Way Glue Pen and Dazzling Diamonds Glitter to apply "snow" around on the house! Finally I punched a 1/8″ hole in the top of the tag and tied on the Real Red 3/8″ Satin Woven Ribbon.  This ribbon is beautiful! Of course I love that it is red but it is a beatiful RED! I thought my tag was finished, but then I thought it needed a little greeting in the bottom corner.  The greeting is from Good Greetings and is stamped with Crumb Cake ink.
Make a few Christmas tags today. Just get out some stamp sets, ink and paper scraps and see what you come up with! If you need any supplies, just go to my Stampin' Up! Online Store!