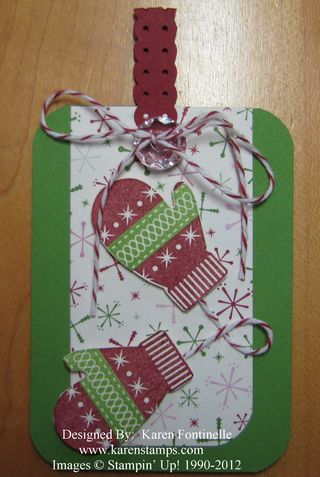 I could say I am "Chock-Full of Cheer" because the Stampin' Up! 2012 Convention is underway in Salt Lake City. Right this minute the first General Session is going on and you can feel the excitement through the Stampin' Up! Demonstrators who are there blogging and tweeting and reporting to those of us who are home!  You can't believe the festive atmosphere that goes on before the beginning of each General Session, especially this first one, with music playing and dancing in the aisles, swapping, chatting, and cameras taking it all in.
Be sure to check my Facebook page for a quick video from Stampin' Up! of highlights from yesterday's Convention check-in day!
So while I am home enjoying keeping up with Convention coverage, I'll be playing with some new stamp sets. This one is Chock-Full of Cheer (catalog page 10) and I pretty much copied the sample tag on page 9. The designer paper on the Gumball Green card stock is the new Be of Good Cheer #126896. Notice the new cute button at the top! It's one of the Vintage Faceted Designer Buttons #127555.
It's never too early to start on Christmas projects!  And the Holiday Catalog will be out August 1st! So take a little time during these hot days to cool yourself off with some Christmas stamping!
For all your stamping supplies, shop Stampin' Up! Online any time!