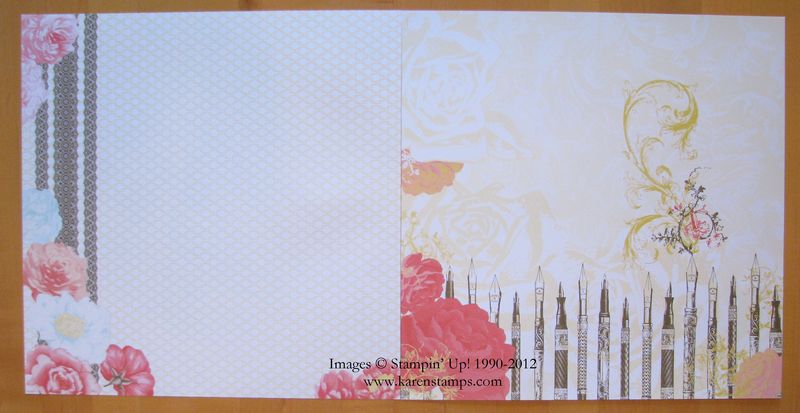 As I was playing with the Attic Boutique Side Notes and pulled out the Attic Boutique Designer Series Paper, this page on the right with the old-fashioned fountain pens really struck me.  I know my mother used to write with pens like that.  Actually, when I was in school, 5th grade second semester was when we were allowed to write in ink….and it was with a fountain pen like one of these….well, not quite as fancy!
Since I am such a fan of handwriting (I used to love to watch my mother write….she had such perfect handwriting….so did my 3rd grade teacher!) I thought wouldn't this page be perfect to dig out some of my mother's and maybe grandmothers' old letters and put some samples of their handwriting on this paper as a scrapbook page.  It can be paired with another sheet in the Attic Boutique collection as I have shown here for a two-page layout.
A lot of the Stampin' Up! Designer Series Paper is already "scrapbook layout-ready"……it's already so beautifully designed, all you have to do is add your photos or memorabilia and journaling.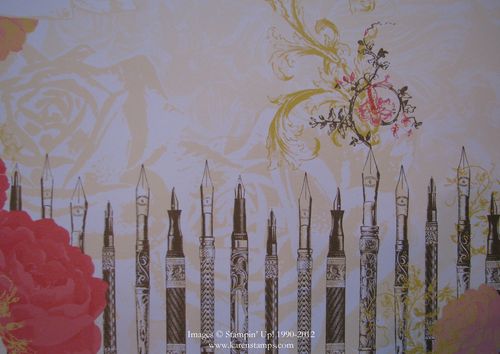 I think a person's handwriting (good or bad) is so important and just brings the person to life when you see it.  That's why I advocate having at least some handwritten journaling or samples on your scrapbook pages rather than strictly computer-generated journaling.
If you want to order products from this Attic Boutique Product Suite in the Occasions Mini Catalog, just go to my Online Store or email me at Karen@Karenstamps.com.  Remember, with a $50 order you earn a free Sale-a-Bration product!