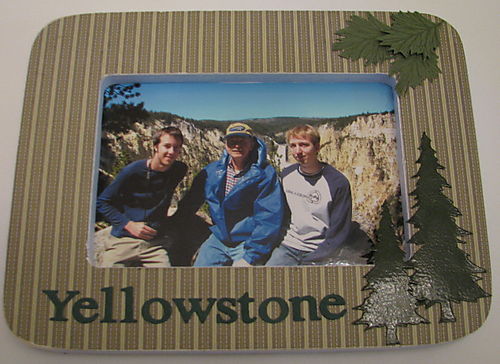 What is there, really, to buy a husband for his birthday?  There just don't seem to be as many gift ideas for men as for women.  Also, this was right on the heels of Hurricane Ike so there hadn't been the opportunity to shop and look around for a gift.  This was the first day most people in our area even tried to go back to work.  I pretty much accepted that he just wasn't going to get a gift this birthday, at least not on the day, although maybe he could pick out something he liked on another day.  And then about 3 pm in the afternoon, as I was thinking about a card I could make, maybe one with a stamped tree for a "male" card, I got the idea to find a summer vacation picture I could use in one of the wooden picture frames I had stashed away in the closet.  I have made several frames like this for gifts and they turn out pretty well.  One I made for a baby gift in this post.
This started as just a plain wooden frame bought at a craft store.  I went through our Yellowstone vacation photos until I came across this one, of my husband and our boys at Inspiration Point in Yellowstone National Park.  I chose some retired SU designer paper that I had on hand and seemed to match and covered the frame with it, just using the SU glue stick on both the frame and the back of the designer paper.  I just laid the frame on the back side of the paper and traced the shape, adhered the paper to the frame, then used a scissors and hobby blade to cut out the center.  Did the same with the back to make it look pretty and also put narrow bands of designer paper around the inside edge of the frame as well as the outer edge of the frame.  The pine trees and pine needles at the top were stamped with a retired stamp set, DD Pines.  I embossed the trees with Versamark and Clear Embossing Powder to make them stronger and more interesting.  And I used my new Big Shot to cut out the letters for Yellowstone using the Naturally Serif die.  The letters are very small, but they were perfect for this project and will be for many more projects. 
I just love my new Big Shot!!  If you aren't familiar with the Big Shot die cutting machine made by Sizzix, you will want to click on this link to watch the Stampin' Up! video.  Email me with any questions and you can decide if this product will be of use to you in your projects (of course it will!).