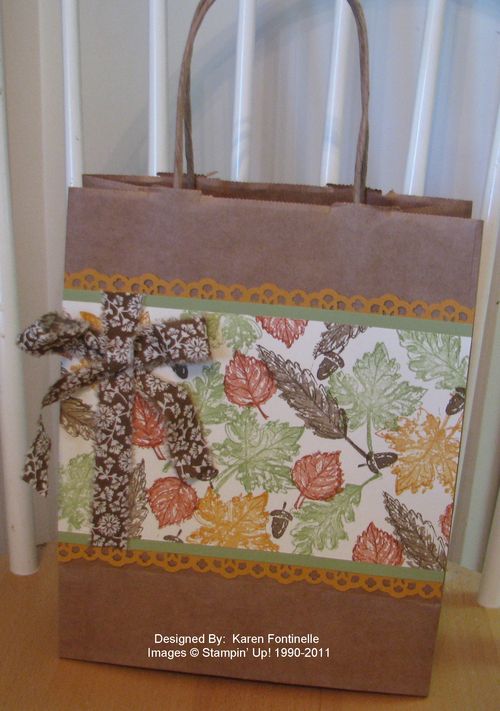 This is what you call "tearing into the new Spice Cake Fabric"!  I started out planning to use more of the beautiful Spice Cake Designer Series Paper, but I see I didn't use any of it! But I did stamp with the Gently Falling stamp set, a 2-step stamping set.  That means you stamp the "inside" of the stamp and then use another stamp over it that provides the outline of the leaf and the veins.  You can also just use each kind of stamp separately….I almost just left the solid image of the stamp alone because it looked pretty enough that way.  I could have used the Stamp-a-Ma-Jig tool to get perfect placement, but I just "eyeballed" it….close enough!
After layering the stamped Very Vanilla card stock on Pear Pizzazz, I wrapped a piece of torn Spice Cake Fabric around like you would do ribbon…and after a few attempts, just tied a separate bow and stuck it on to the piece of fabric to get it how I wanted it.  The top and bottom border of More Mustard is made with the Lace Ribbon Border Punch, just partially hidden under the card stock.
I finally decided the bag was fine as it was, easy to add a greeting if I want when I know what gift I am going to use it for.  I considered stamping and cutting out some leaves and either using Stampin' Dimensionals to pop them up over the stamped leaves or use them as tags hanging from the bow or handle.  But time was up, so this is the finished product!
Save those cute little bags you get at the stores sometimes and then decorate to personalize your gift! Stamp some tissue paper to match!