This morning I was rummaging through my jewelry box and in my holiday decorations trying to find my 4th of July "stuff".  I couldn't remember if I had a special 4th of July bracelet or not, but I found some red and blue cheap plastic beads I probably bought last year and my little 4th of July "crown"…some star garland and cascading curled ribbons down the back!…..that my friend and I bought years ago at a 4th of July celebration.  Then I happened to think of my Simply Adorned Charms from Stampin' Up!  All I would have to do is make a 4th of July insert and I'd have my own customized jewelry!
The charm I have is the middle sized one, the Simply Adorned 1" x 1 1/4" Rectangle Charm #116798 with the 24" Simply Adorned Chain #116800.
Here's the front!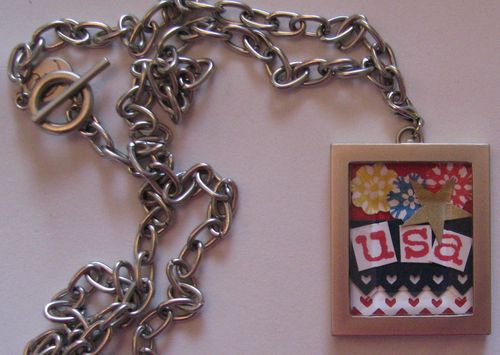 And I love that there is a backside too!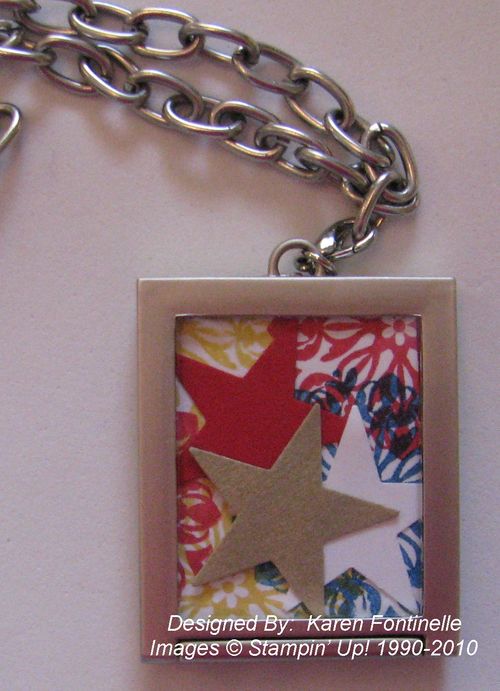 I just got out some stamps and punches and had some fun!
What I hope looks like fireworks in the front view of the charm is the medallion in the stamp set Charming #116519, with the center punched out with the Itty Bitty Shapes Punch Pack #118309.  The USA is stamped with the Rough Type Alphabet in the Summer Mini Catalog….the letters are just cut into little blocks by hand.  The star is cut from Brushed Gold cardstock. The red and blue strips are punched with the Pinking Hearts Border Punch #117649.
The backside of the charm I just stamped that same medallion from Charming in Real Red, Daffodil Delight and Pacific Point ink and punched out the three stars with the Star Punch (retired).  I think we need a punch with itty bitty stars!
I can't wait to wear my new 4th of July necklace to see fireworks tonight!!