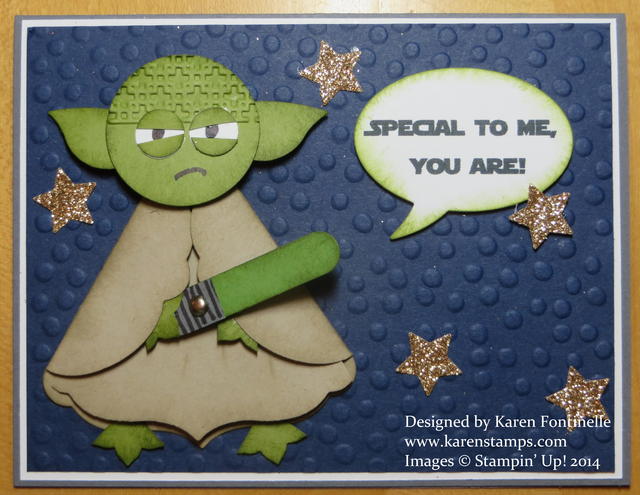 Whether or not you are a Star Wars fan, apparently May 4th is Star Wars Day to celebrate all things Star Wars! The date was chosen because, well, how fun is it to say, "May the 4th be with you!" (I didn't even get it when my husband said he was disappointed it wasn't a work day so he could say that to his co-workers.) Of course it is a pun on the real Star Wars famous saying, "May the Force be with you!"
If you are looking for things to do on Star Wars Day you can watch any of the Star Wars movies, have a Star Wars party, get special deals on Star Wars merchandise, play with Lightsabers, dress up as your favorite Star Wars character, build a Star Wars model with Legos, or read all the Star Wars posts on Facebook and Twitter.
But what better way to celebrate Star Wars Day than to try your hand at making one or more of the famous Star Wars characters for a card or scrapbook page?! I found this Yoda made by a UK Demonstrator, Sarah-Jane Rae with punches, the Labels Collection Framelits Dies, and the Lattice Embossing Folder. I followed her tutorial for making Yoda ,and then I designed the rest of the card myself. Here is the link to her blog post because she explains so well how to make the Yoda. It really is simple.
I remembered that sometime in the past I had found a website that would "translate" something you said in English into "Yoda-Speak". Not sure if this is the same one or not, and there is more than one, but here is a link to the Yoda-Speak Generator! Have fun with it!  I just printed out my greeting on the computer. I even found that I had a font called "Star Jedi Rounded". Then I cut it out with a Word Bubbles Framelits Die which was perfect! Almost forgot I had those! The little stars are punched with the star punch in the Merry Minis Punch Pack and Champagne Glimmer Paper.
How will you be celebrating Star Wars Day?