I just gave myself another idea as I wrote the title….but we'll stick with my original idea first!  After seeing wrapped packages at Convention with fabric trim, I decided to try my own sample.  Stampin' Up! at one time sold a roll of plain white heavyweight wrapping paper and it was great!  They also sold a striped and polka dot wrapping paper, also great.  So if you ever see Stampin' Up! selling wrapping paper again, grab some because it is good quality!  I think it is useful to have plain white wrapping paper on hand because you can stamp on it or decorate with ribbons and trim anyway you want, and then you don't have to have multiple rolls of wrapping paper taking up space for every occasion.  And now with the new Stampin' Up! fabric, you can add an additional trim to your arsenal…..or even wrap the whole box in a piece of fabric (which is what I thought of as I was writing the title!)…..by using fabric.
In this sample, I cut a strip of the new Candy Cane Christmas Fabric #121715 in the Holiday Mini and die cut it  with the new Tasteful Trim Die #120893 on the Big Shot #113439.  If you had lots of packages to wrap, you could cut multiples of this trim at one time on the Big Shot, making your task quicker and easier.  Just wrap your package with white paper and trim with the new Stampin' Up! fabric!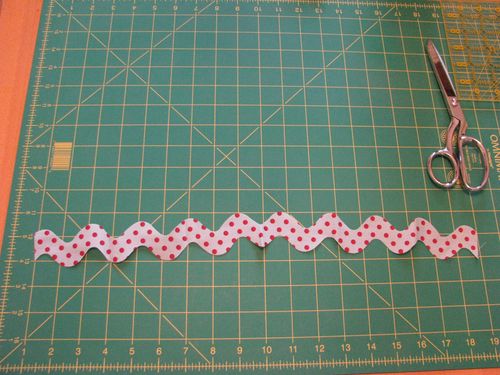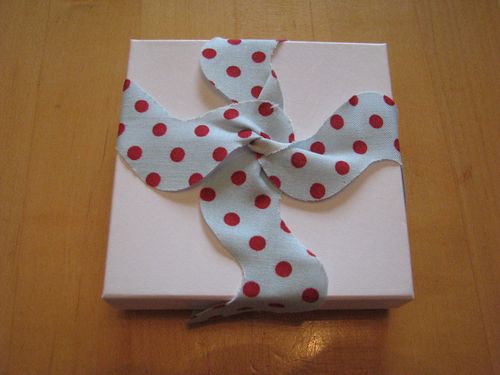 And then I tried making a little ribbon flower out of one of the other fabrics in the set to decorate and added a little Glimmer Brad #119740 to the center.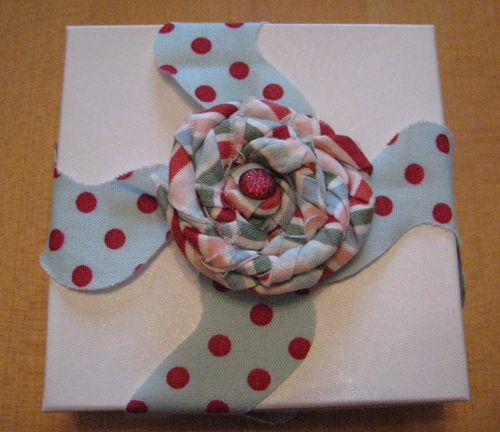 You could even put a pin back on the back of the flower so the gift recipient could remove it and wear it!
Be sure to check out the Holiday Mini Catalog for these beautiful new fabrics!