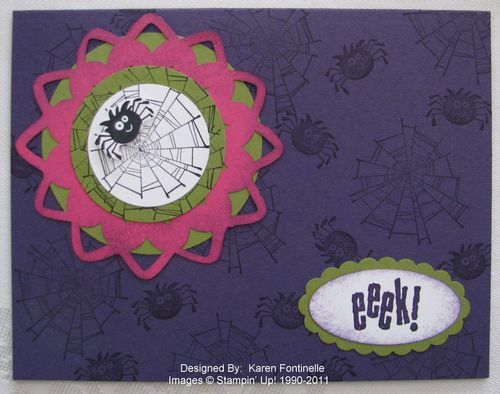 Today, October 1 is World Card Making Day!  This is the day to celebrate card makers from around the world as we begin the busy crafting season of fall and leading into the holidays.  Why not grab some of your stamping supplies and make a card for someone?  Now if you would hate to actually send a card you went to the trouble to make, maybe you should make two…..keep one, send one!  But as long as you have all your stuff out, why not make three cards, and then you'll have an extra…after you send one and keep one!  We can never have too many cards!
Here is a card I sort of challenged myself to make.  I sat looking at the doilies poking out of the Flirtacious Specialty Paper #122360….yes, you get a whole page of doilies….you can cut them apart or use them how you want. I wondered if I could make a Halloween card with a Melon Mambo doily!  Well, yes, I could!  I got out my Color Coach to see what colors would coordinate with Melon Mambo and there they were….Elegant Eggplant and Old Olive!
If you don't feel you have any creative ideas, just find a picture in a magazine or a design on your clothes or in the store and use those colors or shape to make your card.  It really works!
Happy Card Making Day!  
Need supplies? Just order online HERE!