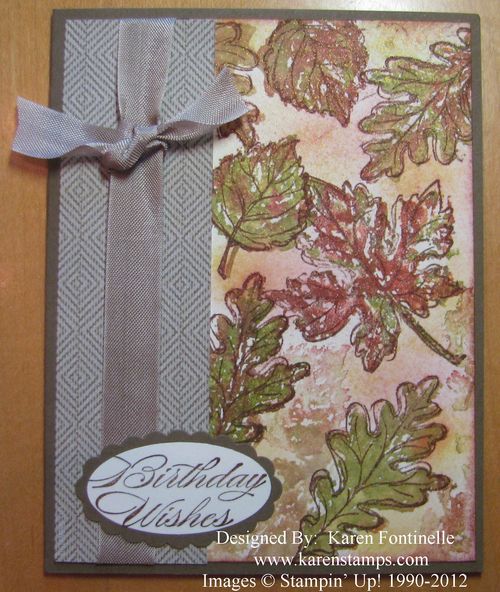 Tomorrow, October 6, 2012 is World Card Making Day! Plan now to stop everything and sit down and make a card (or two or three!) tomorrow.  If you make two, you can keep your masterpiece and still have one to send to someone! Just think how thrilled someone would be to actually receive a REAL card in the mail from you! Or take advantage of the day to start on your Christmas cards!  Plan a design today and then you'll be ready to go tomorrow for World Card Making Day!
This card looks beautiful in person.  I'm not sure the photograph does it justice. I used the Gently Falling stamp set of leaves.  It's two-step stamping:  stamp the leaf, then stamp over it with the outline stamp.  If you want it perfect, you can use the Stamp-A-Ma-Jig….but usually I just eyeball it and come close enough, as I did on this card. To make the multi-colored fall leaves, I used Stampin' Write Markers of various colors and then spritzed with some water very lightly to blend the colors. Then I over-stamped with the outline stamp of each leaf with Soft Suede. And I even sponged a little bit of color in between the leaves.
You could use this card for a masculine birthday card, Thanksgiving, or fall.
For some extra jazz, I spritzed the leaf part of the card with the Gold Glow Smooch Spritz.  You'll be able to see that gold spritz in the photo below.  The key to using the Smooch Spritz is to confidently push the spray button!  Don't try to do it lightly or half-heartedly or you will get big blobs of gold.  Just spray boldly and a fine mist will come out!  Use a box of some kind to catch the overspray, just in case.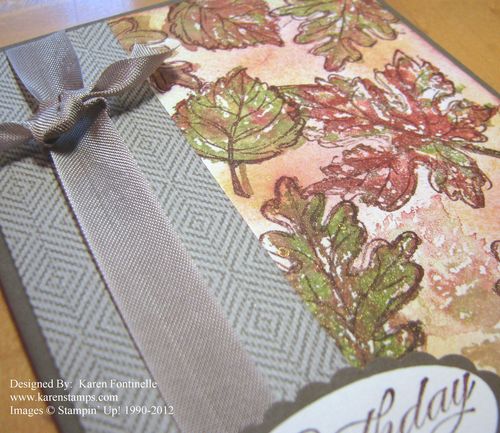 Depending on your browser, you might be able to click the photo above and enlarge it. Then you'll be able to see the gold shimmer.
Happy World Card Making Day Tomorrow!