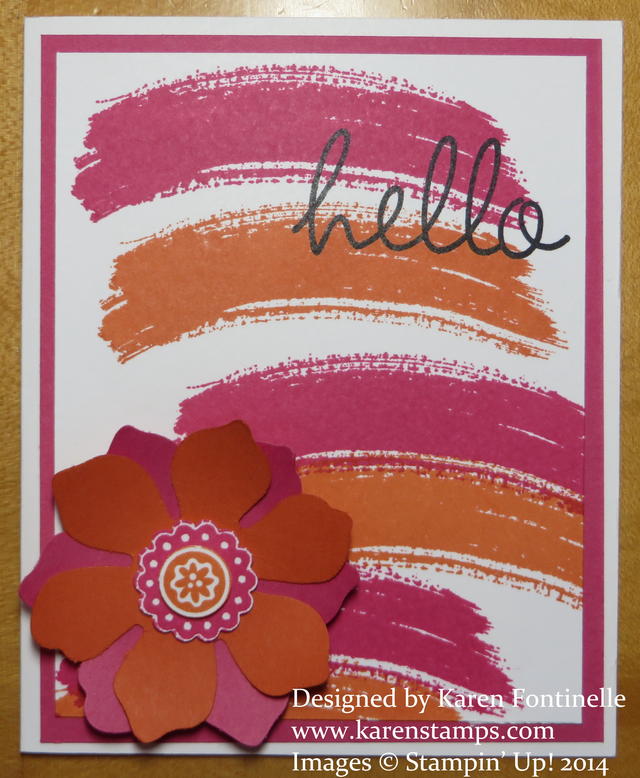 I saw an ad in the magazine the other day of a striped sofa in something close to these two colors, Melon Mambo and Tangerine Tango,  so I decided to use the Work of Art stamp set and the Hello stamp from the Hi There stamp set to make a card. The Work of Art stamps are so fun to play with – anything goes! You just feel free to create! I stamped the word "Hello" at the top and liked it so much I made another card, which you will be able to see later on my Facebook Page HERE. The flower is made with the new punch called Fun Flower Punch. Although the flower itself is only punched from card stock and not stamped first, I did stamp the flower image on the single wood stamp Bloom For You. twice, once in Melon Mambo and once in Tangerine Tango ink so I could punch out pieces for the center of the flower. I used the 1/2″ Circle Punch and the 7/8″ Scallop Circle Punch. Then I mounted those center pieces on the flower using Stampin' Dimensionals to pop them up.
If you wonder where inspiration comes from, here is part of an ad I saw in a magazine of a striped sofa.  I think the one color was fuschia, but I used Melon Mambo. Just think of these three colors:  Whisper White, Melon Mambo, and Tangerine Tango. They are  a summery combination for sure! Make something with these three colors and brighten your day!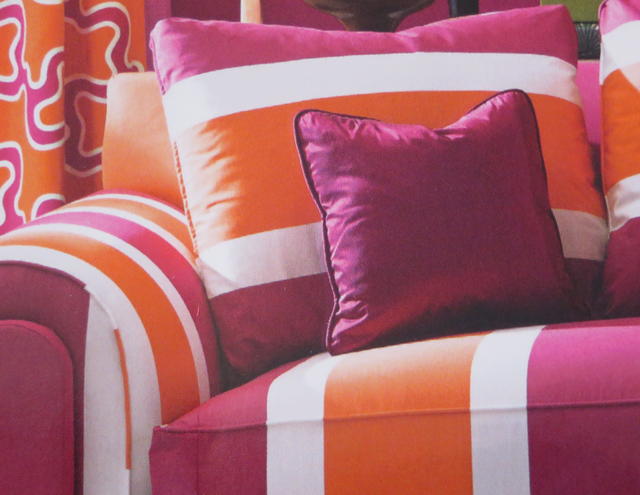 Get ready for summer! Stamp something bright and colorful!  You will find all the latest colors here at Stampin' Up! in my Online Store!