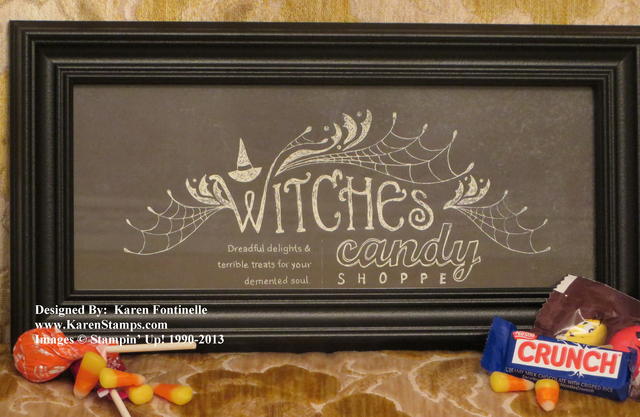 HAPPY HALLOWEEN!!
Happy Halloween!  Today is the day!  I can't believe October 31st is here and with it, the end of all things crafty for Halloween!  I don't think I got my fill of making cards and treats for Halloween. Today's project is probably the easiest thing you can make with Stampin' Up! designer paper!  Two of the sheets in the Witches' Brew Designer Series Paper are this printed design with lots of Halloween treat words on it.  Just cut it apart and you can frame this top portion of the sheet!  It fits perfectly into a cheap frame.  If you have a larger frame, just use a larger piece of card stock or designer paper as a mat behind it.  You could also add some extra elements and embellishments to this sheet and even leave the glass off for a real 3D piece of framed Halloween art!
You can still order this Witches' Brew paper and save it for next year! Go ahead and make the frame and you'll have a pleasant surprise next year when you get out your Halloween decorations!
It's probably going to be a wet and muggy Halloween night here in Houston! It is raining like crazy and supposed to keep up all day.  With our flat landscape, that's not good for streets that flood easily.  But I hope it stops so I will have some trick-or-treaters at my door tonight!!  Usually I have quite a few!
Last Thank You Thursday Stampin' Up! Deal
Get these colors of Chevron Ribbon on sale, today only!
Basic Black, Calypso Coral, Crushed Curry, Island Indigo, Smoky Slate 
Place your order today before you get busy with Halloween! Don't forget the Weekly Deals as well!
Have a safe and fun Halloween!