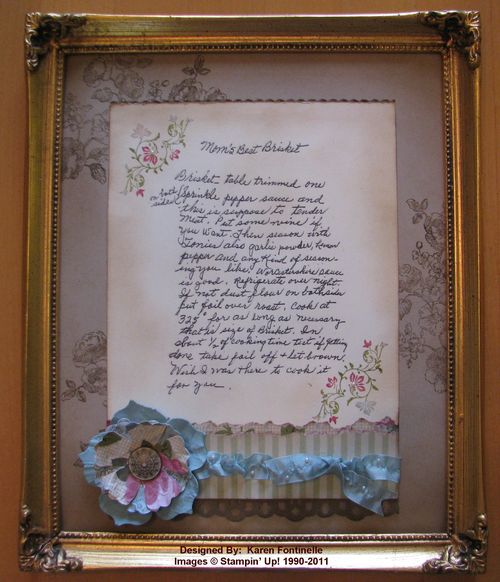 As you are looking through lots of old family recipes as you prepare for Thanksgiving dinner, you might consider doing something creative with those real special ones. A friend asked me to do something with this favorite recipe of her mother's. I love how it turned out and I think she did, too.
She had already made copies of the recipe, so I scanned it again and printed on Very Vanilla card stock.  I did a little stamping in the corners using markers on the stamp, which, as it turned out, gave it that lighter, more vintage look.  The edges are sponged with Soft Suede very lightly.
For the paper flower and the bottom border I used the retired Springtime Vintage Designer Series Paper.  It looked perfect for this project.
As I have said before, if you ever think your handwriting is not good enough for journaling or scrapbooking or writing notes in cards, just take a look at this handwritten recipe and realize how it brings the person to life for the people who knew her.  Get off the computer and pick up a pen once in awhile!  Your handwriting will be a real treasure to someone in later years, I guarantee it.
With an assortment of stamping supplies you can make more than cards or scrapbook pages.  Explore your creativity and see what wonderful projects you can come up with!
For Stampin' Up! supplies, just visit my Online Store! Be sure to check out the Online Extravaganza from now until November 30.