Just a little attempt at stamping humor about a not-very-funny morning in Houston, TX!  We had rain last night and more during the night which meant that by morning lots of streets were flooded, mostly on my side of town.  Lots of schools are closed…..we don't have Snow Days here, we have Flood Days!  We were fine at our house, but my husband had to wait an extra hour to go into work until we could see that the buses were getting through on the HOV lanes into downtown.  Any low spots in Houston flood easily, and now we have some parts of highways or feeder roads built below ground level, which really doesn't seem very smart for an area that floods easily on rainy days.  It's kind of a joke to see cars flooded in intersections or along streets, people who thought THEY could make it through when no one else could.  But in reality they could be people new to Houston, or maybe couldn't see in the  heavy rain, or in today's case, maybe it was still dark out when the weather was so bad.  Of course there is nothing funny about being in this situation or having your car ruined.
But I thought for today's post, I would make a little card representative of the day in Houston…..where the cars are caught on the flooded streets and where you should really be in a boat!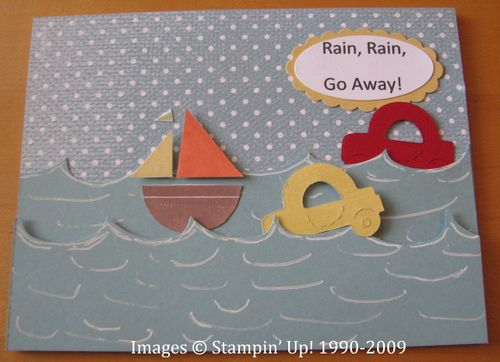 I used some dotted paper (to represent the rain drops!) from the beautiful Parisian Breeze Specialty Paper, the "water" is Baja Breeze paper with the waves punched out with the Key Tag Punch (unevenly) and the "white caps" drawn in with the Signo Gel Pen (rather sloppy, but this floodwater isn't pretty).  The boat is stamped and cut out from "Nursery Necessities".  The cars are Sizzix die cuts (not sold yet by SU) cut with the Stampin' Up! Big Shot.  The sentiment I just printed on the computer and punched with the large oval punch layered on the NEW Scallop Oval Punch (yes, you've gotta have it!) from the Occasions Mini.
The rain has stopped now and the sun is trying to come out, but the rain may come again this afternoon.  Rush hour this evening could be a repeat of the morning commute!