Over Labor Day weekend my son and his girlfriend came home for a visit. She ASKED me if we could stamp because she wanted to make something for her friend!!  I didn't even have to FORCE her to stamp!!  We stamped the first time she came to visit back in July so I guess she really did like it! (But then, who wouldn't??!)
First she stamped this card using "Season of Friendship" and we added pumpkins from "Pumpkin Patch" in the Holiday Mini  just for fun.  I knew the tree from "Season of Friendship" was SO much fun to stamp with!  I thought she did a great job, even varying a little bit from how I did mine.  Actually hers turned out looking better than mine!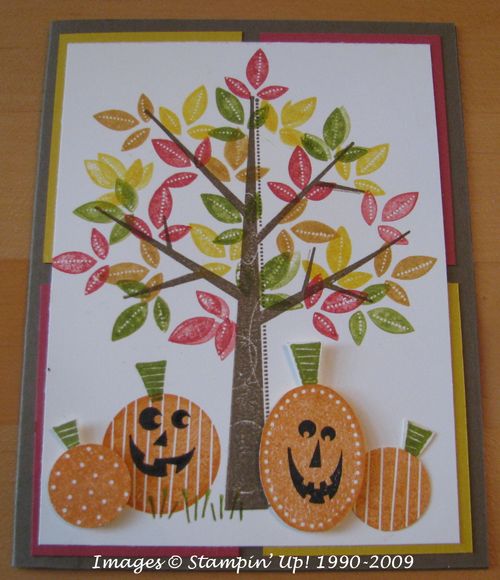 And then we needed to play with my new Stampin' Up! Bear Big Shot Bigz Die!  We cut out the bear and then dressed it up using the new Pawsitively Prints Designer Series Paper cut out with the Stampin' Up! Beary Essentials Bigz Die.  These are all new products in the Holiday Mini!  Stampin' Up! is partnering with the Build-A-Bear Workshop so we have an exclusive and exciting collection of new products you will enjoy!
Heather decided to make her bear a Granny Bear and made some little glasses for her out of the retired Stampin' Up! wire we used to carry and added half-pearls on her jacket from the Pretties Kit!  She thought maybe the bear could use a hat, but that wasn't quite right…neither was a bow….so we finally tried a Flower Brad and that seemed to work!
I know it is going to be LOTS of fun playing with all these bears!!