I've owned the Stampin' Up! Watercolor Wonder Crayons since they first came out.  At that time, they sold all the colors in one long tin, which I liked because I could just open the lid and have access to all the colors at one time.  Later Stampin' Up! changed to smaller tins within the color families.  Now with the new colors, we've needed new Watercolor Wonder Crayons to fill in the gaps, but there was a delay in getting them.  Finally now I have my new colors in Watercolor Wonder Crayons (WWC)!  They came with the four tins so I had to make a decision….keep them in my one big tin or be up-to-date (and more portable) in the smaller tins.  Well, I opted to try the new smaller tins!  I found a file a demonstrator on my favorite online group for demonstrators, SUDSOL, had prepared to insert into the lid of the tins to identify the colors.  I scribbled a little bit of color beside each color name and stuck the chart inside the lid of each tin.  Now my WWC are ready to go!  I love coloring with them!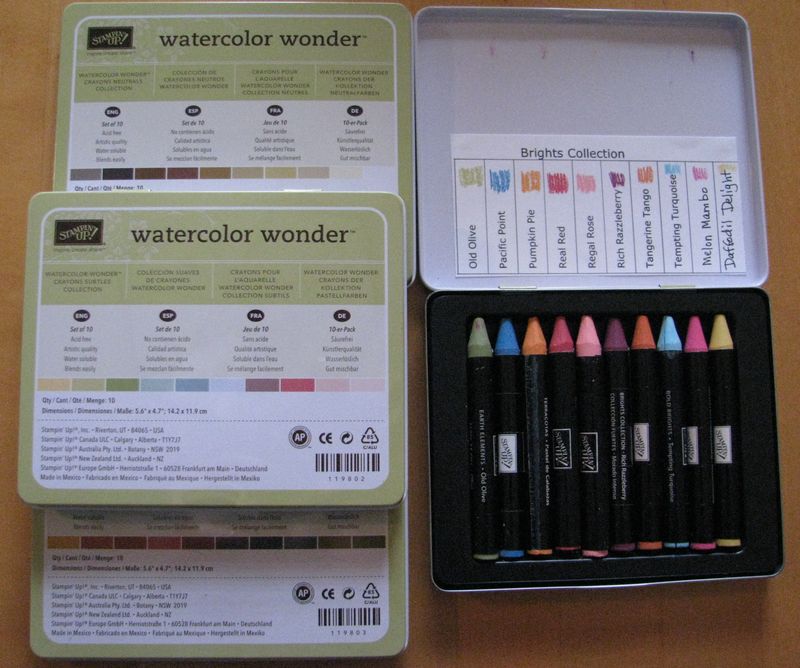 If you would like to purchase a color family of the Watercolor Wonder Crayons, or if you own them, but need the new Color Kit, click HERE to go to my online store.  There are so many different techniques you can do with them.
If you are a Stampin' Up! demonstrator and would like to have a business-minded group where you can go for ideas and answers to your questions about stamping and running your stamping business, click the SUDSOL button over on the right side of my blog!