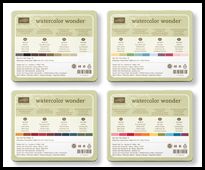 The fabulous Watercolor Wonder Crayons are now available for purchase!! They were delayed due to the supplier relocating, but finally Stampin' Up! has them in inventory and can take your orders!  Some of the crayons may have sleeves with the old artwork on them but this will not affect the quality or usefulness of the crayons.
Use the following item numbers to purchase your Watercolor Wonder Crayons:
120949 New Color Kit
119802 Subtles
119803 Regals
119804 Brights
119805 Neutrals
I love using my Watercolor Wonder Crayons, especially with my Aqua Painter!  I know you will enjoy them too!