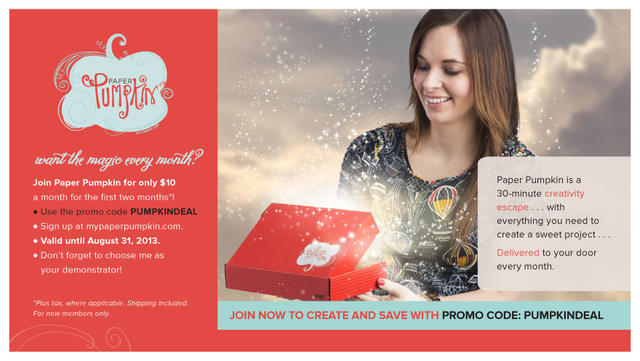 Do you want the magic of creativity in the mail every month from Stampin' Up!?  Then try Paper Pumpkin and get a monthly kit in the mail! This is a fabulous time to try Paper Pumpkin because for your first two months, for new subscribers, you can use the Promo Code PUMPKINDEAL and get Paper Pumpkin for just $10 a month for the first two months (plus tax, but shipping included!). After those two months, the price for each monthly kit will be $19.95 (which includes shipping).  You can pause your subscription or cancel at any time. Just do it before the 10th of any month to stop that month.
All you need for your kit is adhesive. I'm sure you will have something around the house to use and then if you continue your subscription, I can recommend some Stampin' Up! adhesives that you might find useful for your kits.
This kit would definitely be FUN for anyone! But it is especially good for:
New stampers 

Beginning stampers

People who like to try new things

Stampers without too many supplies

Stampers with a ton of supplies but who like a surprise in the mail

Someone looking for a quick and easy project

A gift for or a project to do with your children or grandchildren

A surprise for college students for some stress relief!
Teenagers
Anybody who wants a fun treat once a month!
Follow the directions in the kit to make whatever the project is OR make your own creation. Usually there are extra pieces you can add to cards or scrapbook pages or other designs. And of course you'll always have the stamps and ink spots (tiny ink pads!) you get in the kit!
This special Paper Pumpkin deal is available until August 31, 2013, but if you would like to get your first kit shipped to you around August 15, then you need to sign up by August 10th! You can sign up between August 10 – 31, but your first kit will ship around Sept. 15.
Sign up HERE now while it is on your mind!
Be sure you click on "Promo Code" after you enter the quantity. Type in PUMPKINDEAL in the promo code box, then click "Continue".  Next you will see your discounted price for two months and then add your name and shipping info, etc.
Let me know if you have any problems or questions,
Try Paper Pumpkin and see how you like it!  You might end up wanting extra subscriptions for loved ones!