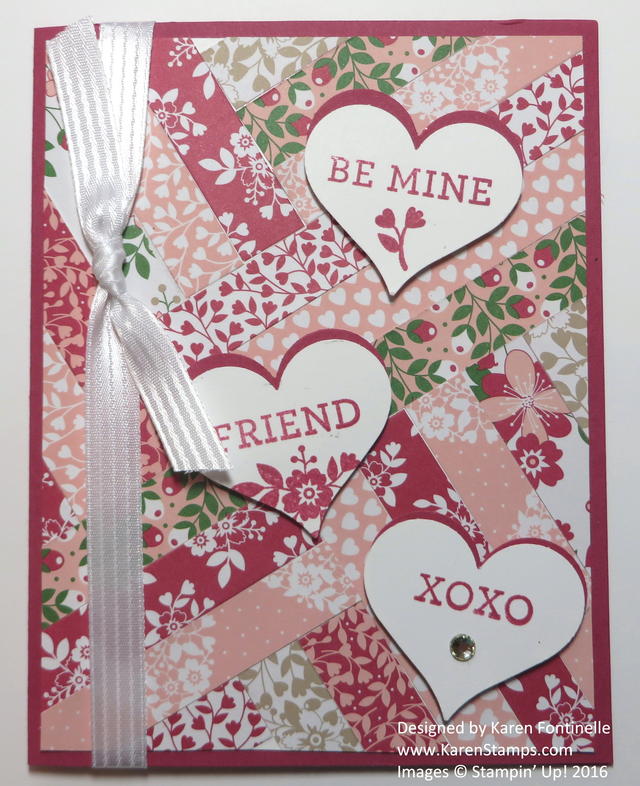 It's Valentine's Day, and if you need to make a last minute Valentine card, this paper strip quilt valentine idea is very easy to make. It may look involved, but it is a good way to use up your designer paper scraps.  I happened to have a bunch of paper strips from a project with the Love Blossoms Designer Paper Stack. They are about 1/2″ wide, you can use whatever measurement you like. The basic idea is to lay down some strips of paper side by side on the cardstock and then trim off the overhanging strips.
I suggest starting with a piece of cardstock such as Whisper White, larger than what you ultimately want (to allow room for trimming). I adhered one paper strip at an angle that didn't go all the way across. Then start adhering strips side by side (or leaving a margin in between if you want) going in different directions and varying the paper patterns. Where you end up with the eensiest empty space along an edge, you could color in with a marker, but if you make your base cardstock larger, you will be trimming the edges off anyway.
This is what your strip piecing will look like:
And then you end up with this paper strip layer that looks like a quilt perhaps!
It's best to make this layer larger than the size you need so that you can trim it down and get rid of any little empty spaces along the edge.
If you wanted to make this look like a quilt or to add extra texture, you could now run this layer through the Big Shot with an embossing folder of your choice.
To finish the card for Valentine's Day, I punched three Whisper White and three Rose Red hearts with the Sweetheart Punch. You can't really layer the hearts properly but you can make it look a little bit layered by just staggering the punched hearts one on top of the other. The hearts are stamped with images from the Bloomin' Love Photopolymer Stamp Set.
Of course this card is not just for Valentine's Day.  You can do this paper strip technique for any occasion with any papers. It's a great way to use up scraps with an impressive result! If you need a last minute Valentine card, try this paper strip quilt technique.
Happy Valentine's Day!