Need a quick and easy little gift for Valentine's Day?  All you need is a votive candle holder and some paper, ink and stamps….maybe a punch….maybe the Big Shot!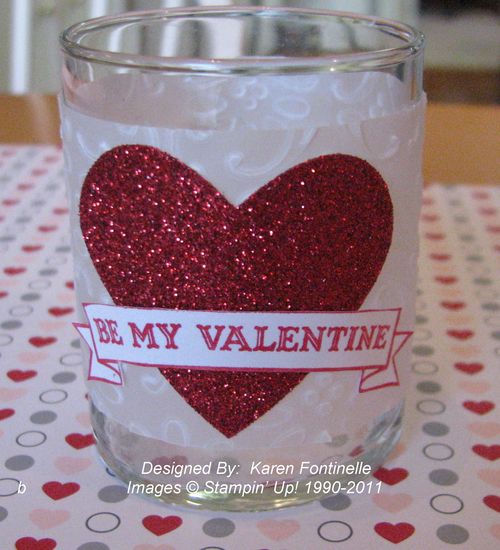 You probably have these little glass votive candle holders around your house, or if you need to buy some they are easy to find.  All you need to do basically is wrap some paper around the glass and decorate!  I chose to emboss the Stampin' Up! White Vellum Card Stock #101856 with the Finial Press Embossing Folder #115963.  That looked so pretty just by itself!  And of course I had to use the Red Glimmer Paper #121790 in the Occasions Mini Catalog because it is so beautiful to punch a large heart….and no glitter falls off!  Again, it was plenty pretty with just the heart on the vellum!  I tried tying various ribbons around the middle but nothing seemed quite right.  Then I stamped the greeting with the "Be My Valentine" stamp #122045 in Real Red and just cut out the banner. Seemed perfect to me as a finishing touch!  There are lots of easy valentine craft ideas and this is one of them!  Wouldn't this be a great valentine craft for kids?!
And if you need to stock up on supplies for future crafting projects, just click HERE!