One of my blog readers today asked me about triangle boxes, and after cutting and folding a piece of paper to refresh my memory on how to describe to her how to make one, I thought why not make one for Valentine's Day!
After scoring and folding, I ran the paper through my Big Shot in the Perfect Polka Dots Embossing Folder #117335.  I would say that embossing folder makes anything look good, but then I would say that for all of the embossing folders!  The decoration on the front is made with a stamp from the "Love You Much" stamp set #113756.  That's a cute set!  To make it a little fancier, I stamped the image twice so I could punch out the "hugs & kisses" with the 1" Circle Punch and a layer for that with the 1 1/4" Circle Punch.  I also stamped the heart again and just cut it out with my Paper Snips (you've got to have those for cutting little things!!).  You can pop up whichever layers you want with Stampin' Dimensionals.
Here is a view of the box from the side so you can see what it looks like.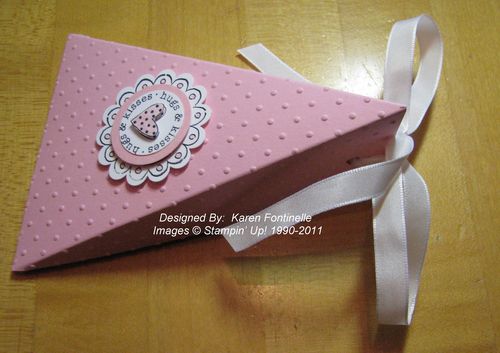 And here is the basic format for making the triangle box.  You can make any size you need.  My paper happens to be 4" x 11", scored in the middle at 5 1/2".  Measure at each end to find the center and put a pencil mark.  Then score on a diagonal from the center fold edges to that midpoint on each end.  Fold on all the scored lines and fold into your triangle box.  See where you want to punch the holes on the side flaps where you will tie the ribbon to hold the box closed.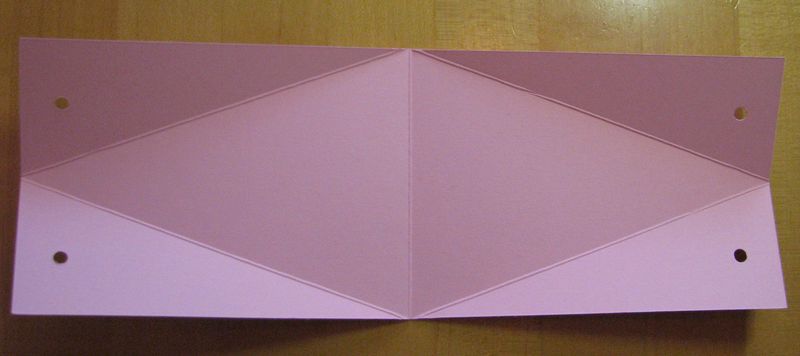 Just stamp or decorate your box how you want and put a treat in it!
If you need card stock to start making triangle boxes and others, just click HERE to go to my Online Store and shop!  Don't forget….with a $50 purchase, you will get to choose a Sale-A-Bration free reward! Contact me if you have any questions.