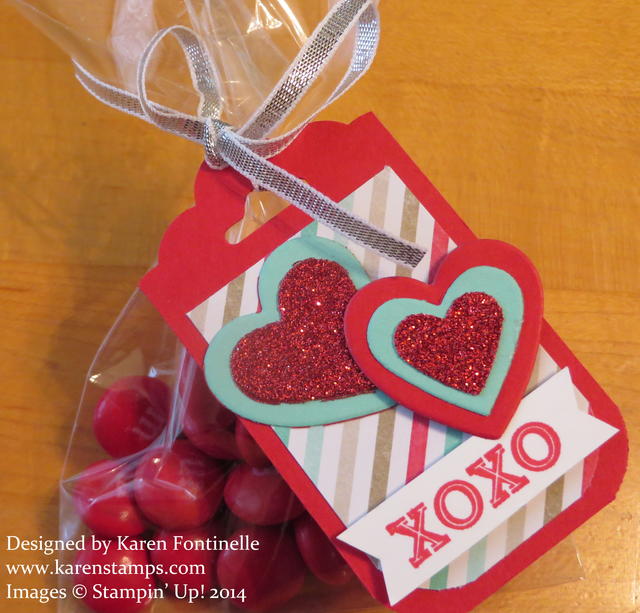 You might be getting ready to make Valentine Treat Bags of some sort for Valentine's Day perhaps for your child's classroom or their teachers or your friends, neighbors, co-workers or maybe your family! Maybe this tag will inspire you. Put the treat in a Cello Bag and make a tag from your scraps! You know you've got 'em!  I punched the tag with the new Scalloped Tag Topper Punch and then used scraps to decorate it. Now the tag is pretty narrow, only 2″ wide, as is, but for my small bag I wanted it even smaller.  You can trim your strip of paper narrower than 2″ and just be sure to center it when you put it in the punch so it will be even on both sides.  But since I had already punched it at 2″, I just trimmed off both sides, trying to make the top scalloped edge look symmetrical.  And it doesn't have to be perfect! Then I rounded off the bottom edges of the tag to match the scallops at the top. It really gives the tag a nicer look.  The layer on top of the Real Red tag is from the Fresh Prints Designer Series Paper Stack. The "XOXO" is from the Oh, Goodie! Stamp Set, a carryover from the Holiday 2013 Catalog. That means you can still order it! And then I grabbed some die-cut hearts from the Hearts Collection Framelits Dies and the Hearts A Flutter Framelits and even the Small Heart Punch. Use whatever you have! Or even just cut some hearts by hand! They can be whimsical odd-shaped hearts! Tie on your tag with a piece of 1/8″ Silver Ribbon.
Here's a tip for cutting a narrow banner. If the strip is narrow enough, stick the end in the new Banner Punch, free with a $50 purchase during Sale-A-Bration! You only want it to cut the one end, that"s why you don't slide the strip in the regular way. This will punch just the end and that will make you little "flags" at the ends.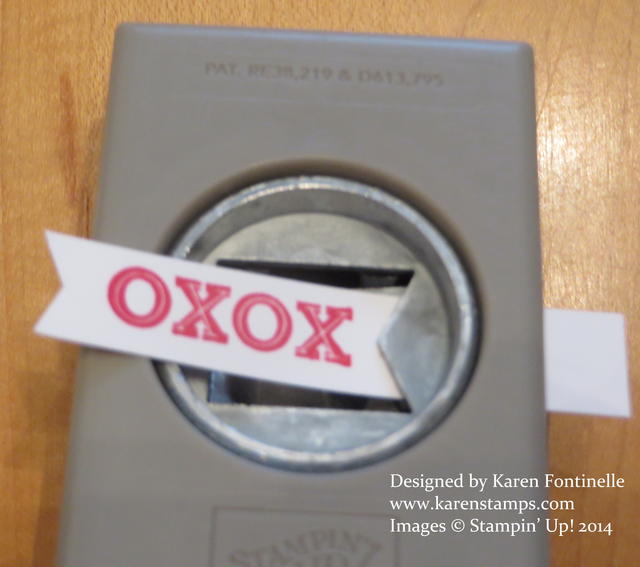 Have fun making your Valentine Treat Bags and don't forget to check your pile of scraps!