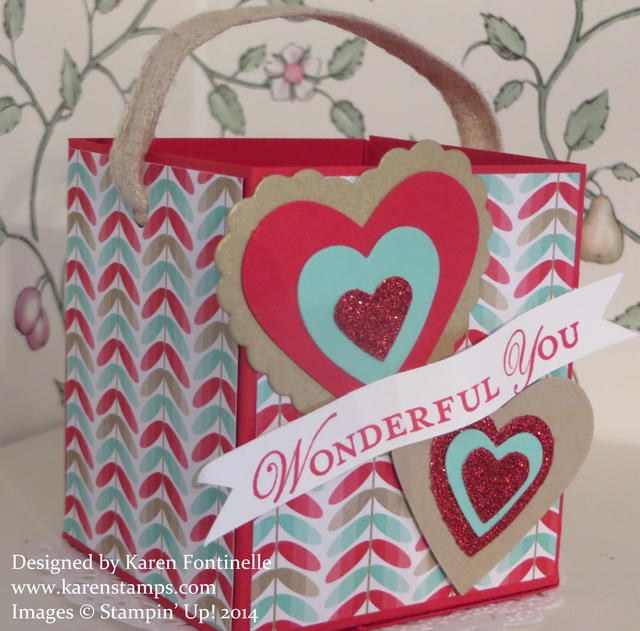 If you need to make a little Valentine gift box or Valentine treat box, here is an easy one to do You can vary the size if you want according to the size of paper you have. You just have to do a little math! If you want this box a little wider you would need to start with 12×12 paper. You could use designer paper if you don't mind it a little less sturdy.
I cut my Real Red card stock 11 x 4 3/4. It is scored at 2 5/8″, 5 1/4″, 7 7/8″, and 10 1/2″. Turn the paper then and score at 1 3/4″. On the short side, cut the flaps up to the score line and trim off the 1/2″ tab on the end. See photo below. 

Fold on all the score lines and use your Bone Folder to get good creases. Figure out how you will fold the bottom flaps and where you will put the adhesive.  You can use Sticky Strip or the Tombow Multi-Purpose Adhesive. I put my Sticky Strip on the first bottom flap (side opposite the narrow tab) and the third one.
And to decorate the box, I used layers of the Fresh Prints Designer Series Paper Stack, 2 7/8″ x 2 1/2″. Can you see what I did wrong with mine?!  I glued them on upside down!  Sheesh!  But I bet if I gave this box to someone, they wouldn't even notice!  So I just left it as is rather than risk tearing the paper to get it off! To decorate the front I just used various punched and die cut hearts and a banner I had already stamped but didn't use the other day, with the greeting from Loving Thoughts. The ribbon handle is the 7/16″ Natural Trim Ribbon in the Annual Catalog.
Like this Valentine Treat Box? If you need any of these supplies for future projects (remember hearts aren't just for Valentine's Day!) feel free to visit my Stampin' Up! Online Store for all the current Stampin' Up! products. And when you spend $50 or more, you get to choose a FREE Sale-A-Bration product until March 31.