Looking for a last minute, quick and easy valentine treat?  Try the Valentine Top Note Purse Candy Treat Bag!  It's very easy to die cut the Top Note Die with the Big Shot and the fold the one end over to look like a purse. Punch two holes in the fold to insert ribbon and tie knots in the ends or adhere to inside. I used the retired small cello bags from Stampin' Up!, but if you had the medium Cello Bags you could turn the Top Note die the other way to fit the larger bag or just fold the bag down to the narrower size you want if it doesn't quite fit. Fill the bag with candy or whatever treat you have and fold the top over. I adhered the bag to the inside of the purse using Fast Fuse and a little on the flap part of the purse to hold it down on the front.
Decorate the front flap of the purse to your liking! I attached a Very Vintage Designer Button with a few Glue Dots. The bow on it is made with the Gold Baker's Twine, just attached with a Glue Dot. It was too difficult to try to get the twine through the button so I gave up, made a bow and just stuck it on! For a little more bling, I punched two hearts from the Dazzling Diamonds Glimmer Paper with the heart punch in the Itty Bitty Accents Punch Pack.
If you don't own the Top Note Die, I would cut a piece of card stock in a rectangle and fold over similarly. Maybe round the corners.  Then I would go order the Top Note Die because it is one of the all-time favorites!
Time is running out to get those class valentine treats done and valentines mailed out! Here's what your table can look like when you are making valentines!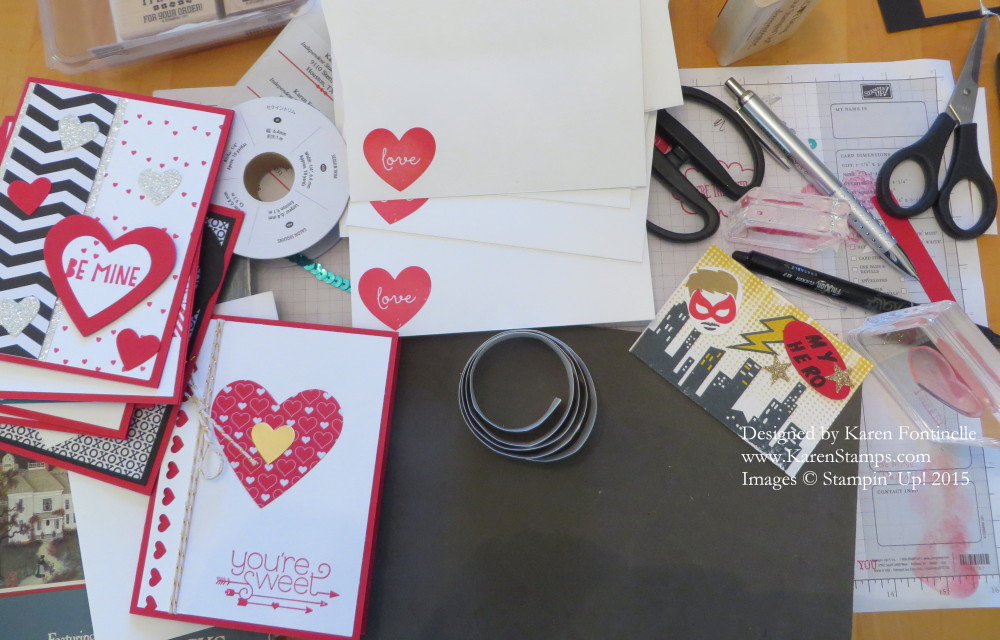 If you think any of your friends can use a valentine treat idea, please click on one of the social media buttons below this post to share!  Or send them this link!