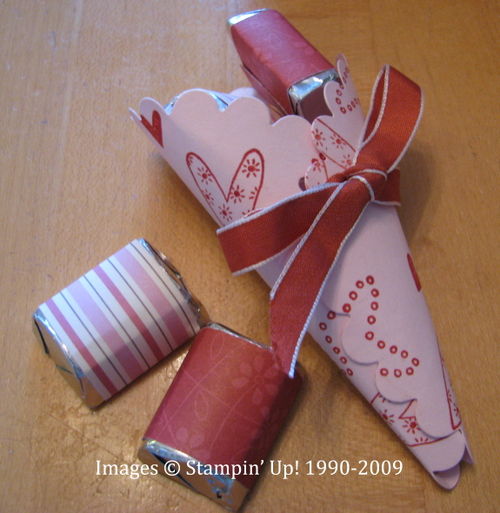 Here's an idea I have seen many other stampers make.  I love using my Big Shot, and this paper cone is made with the Scallop Circle die cut.  I used Pink Pirouette card stock and stamped with Red Riding Hood ink with the hearts from the set "Love You Much".  I gently rolled the paper into a cone shape, punched two holes and put the ribbon through.  You can also add a little glue to hold the bottom edge.  Tombow Multi Purpose Glue (in the green bottle!) works great for this.  Just hold it for a second until it adheres.  These candies are Hershey Nuggets wrapped in Candy Lane Designer Paper.  Love doing those!  Wouldn't your valentine love getting this little gift?!  You can shop for any of these Stampin' Up! products by contacting me or by going to the online store!  And don't forget about Sale-A-Bration!
Also, when you go to my Demo Website you can watch a great video about the Big Shot!  Jaron Winder, a multi-talented Stampin' Up! employee, will show you several projects using the new Big Shot dies.  Jaron isn't "just" an employee, he really is a stamper and makes fabulous projects.  He put on a fantastic demonstration at the San Antonio Regional that I was able to attend.  And the man can sing!
Here are some other Valentine items.