We enjoyed a fabulous weekend in Austin celebrating our son's girlfriend's graduation from the University of Texas at Austin!  Here is the card I made for her.  I had planned to post a "decoy" ahead of time to fool her in case she was looking at my blog, but I ran out of time!  I love this easel card, so easy to make and looks like a special style!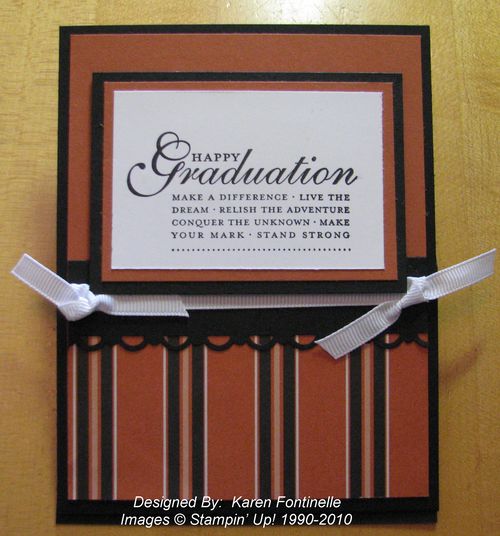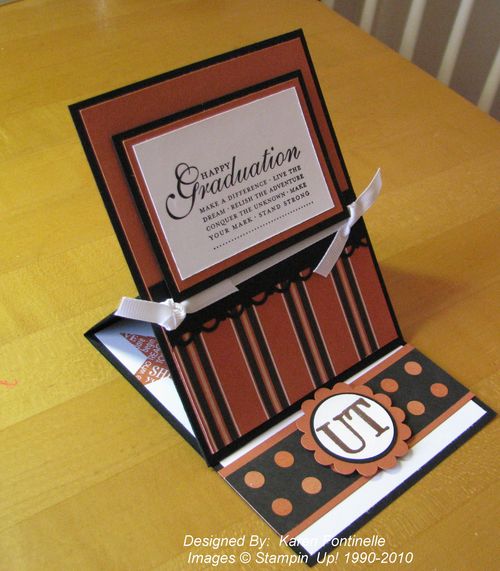 Stamps:  Happy Grad (#117006 Stampin' Up! Summer Mini), Typeset Alphabet (retired), In the Stars (inside) (retired).

Paper:  Whisper White, Basic Black, Really Rust, UT Scrapbook Kit (non-SU)
Saturday was a very full day!  First was a luncheon with her parents and family, then the graduation ceremony, and finally the spectacular University-Wide Commencement outside at the UT Tower.  You have to arrive more than two hours ahead to get a seat for that evening event….did I mention it is outside?….in Texas?….in May?….but they do provide free ice water!…and paper fans…..and it wasn't TOO bad being outside for over five hours in the evening… there was a breeze….and it will get a LOT hotter than that pretty soon….so, not too bad.  There were over 7000 graduates and their familes!  I'm sure they weren't all there, but most of them were!!  The actress Marcia Gay Harden was the speaker, and it was fun to hear the deans bestow the degrees on each school, some offering a little humor in their spiel or perhaps the graduates having some impromptu reaction.  Finally the evening concluded with the impressive fireworks display off the Tower and "The Eyes of Texas" playing in the background.  The Tower is lit in orange for the graduates and the windows display a "10" for the graduation year if you look carefully!  It's really a great way to celebrate commencement!