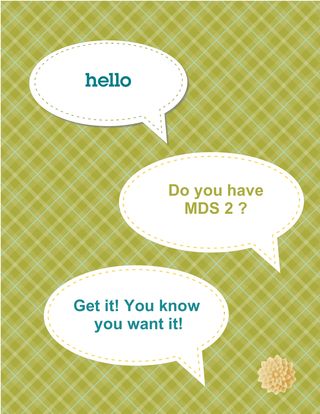 Just a silly little card for my first creation on my newly installed My Digital Studio Version 2! I started with one of the card templates that only had that top quote bubble. I added the next two and the text and the dahlia in the corner!
Since I already had the original version of My Digital Studio I could have purchased just an upgrade with very little content. But when I looked over everything that was included in the mds 2+ version, it made much more sense to go ahead and get that. The mds 2+ has the software with almost 75 new features and tons and tons of artwork, embellishments, designer kits, and more.  Even though I already had a lot of it, there was a lot I didn't have and for the price it was a great deal.
Here's a tip for installation:
If you have an anti-virus program running, particularly AVG, pause it or turn it off or whatever you need to do. My new MDS 2+ would not install on either my laptop or desktop until I thought of the anti-virus program.  Once I paused it, it installed just fine! I haven't had time to take in all the new features yet, but there's plenty of time. There will be so much fun ahead playing with this new My Digital Studio!
If you would like to try My Digital Studio Version 2, all you have to do is go to the Online Store here and select the MDS 2 Free Trial. During that 30 days you can purchase any extra downloads you would like, but really you will receive plenty to try. You will have full capability to use the software and print your projects.  Even if you did the MDS Express Trial you can still do this one!  You have nothing to lose and everything enjoyable to gain!