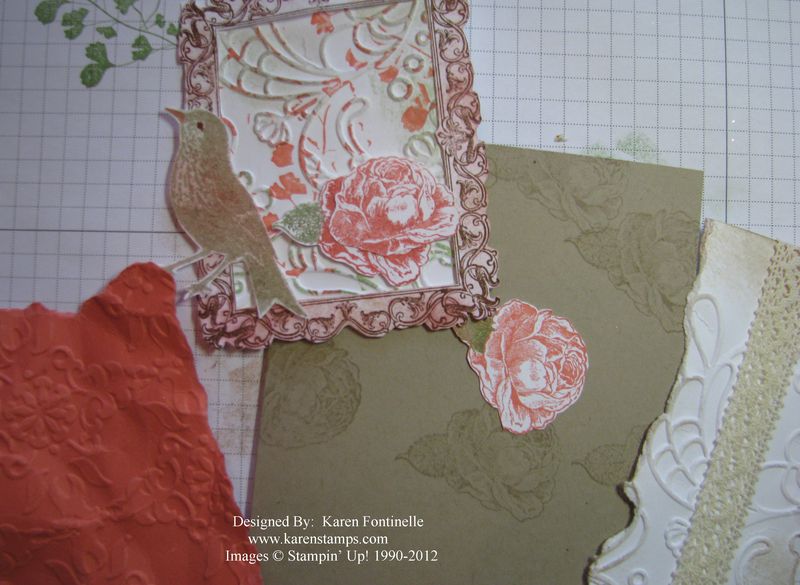 Don't think your catalog is just for shopping!  Get out your Stampin' Up! Catalog and use it!  If you just flip through the pages, you will certainly find some ideas to inspire you.  Don't be left hanging with no creative juices flowing!  Maybe you will see a card or box you like….maybe you will see an element on a scrapbook page you could put on a card instead. Maybe you will see a card you can picture enlarged into a scrapbook page if you just add some photo mats.  And the samples aren't just on the stamp set pages….look back in the accessories, too!  This catalog features close-ups and allows you, in some cases, to imagine what the rest of the project looks like and develop it yourself.
My inspiration for this post was found on page 74.  My card isn't exactly like that sample but at least it got me started. Above you can see the elements I made to assemble the card.
The Papaya Collage stamp set is a beautiful one to use! Be sure to check out all the elements included in this one set.
The Whisper White Elegant Lines (#119277) embossed pieces were just scraps in my bag that maybe didn't turn out perfectly for some reason. But they were useful on this project.
Paper Snips are essential for easy cutting of intricate pieces! It may be referred to as "fussy cutting" but don't be too fussy about it! Just keep turning your piece while you hold your scissors relatively still.  And don't forget to cut off the excess edges first or as you cut. Don't worry about every single cut and curve…just get somewhat close.  It really doesn't have to be exact, in most cases.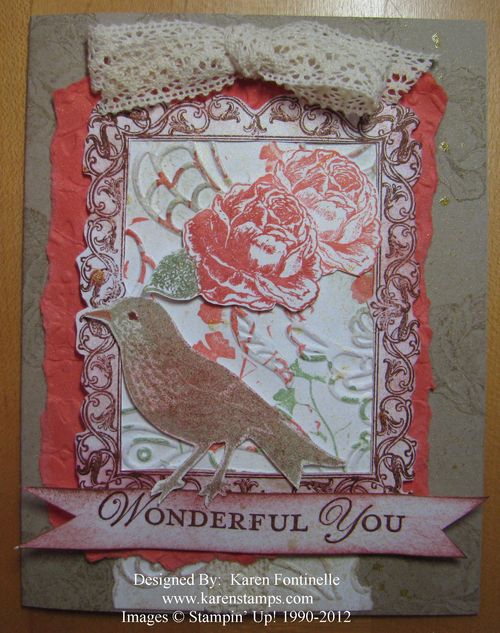 And as you might barely be able to see, when I was finished I spritzed the whole card with Gold Glow Smooch Spritz #118770. I like the way it turned out.  I didn't get big blobs of gold or overspray and ruin the project. What I have heard about the Smooch Spritz is don't be afraid to push down the sprayer!  Put your project in a box or somewhere that you won't make a mess.  Do some practice sprays after shaking the tube back and forth gently to mix it up.  Then don't try to be delicate in spraying….that's when you will get a mess. Push down like you know what you are doing! Of course hold a little distance away.  Try it!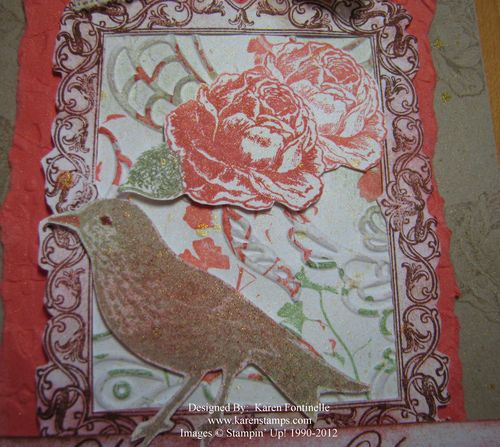 Click to Enlarge
If you are interested in buying Stampin' Up! products and would like a new catalog, please contact me at Karen@Karenstamps.com.  I just got a new box of them!
Shop my Online Store for the best products in papercrafting!