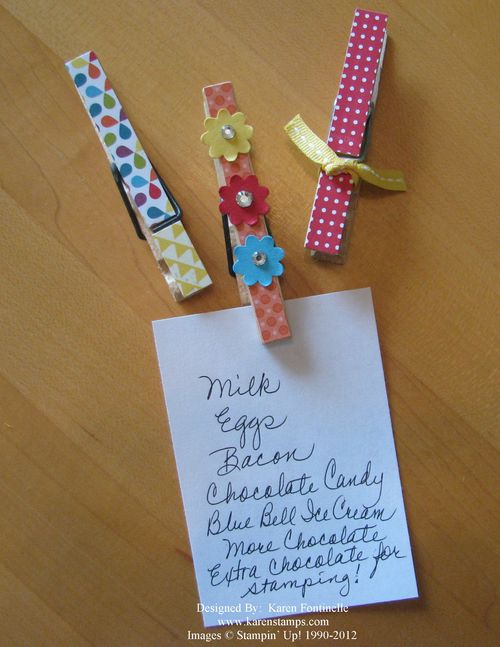 If you happen to be a scrap hoarder, even down to the smallest ones…because you never know when you might need that small piece….then get out your paper scraps along with some old-fashioned wooden clothespins (or maybe some craft clothespins) and play!  I don't really know if these are clothespins I bought at the craft store a long time ago or if they are real clothespins that my mom or grandmothers used way back in the day….but either way, instead of BUYING decorated clothespins like these, you can make them in three seconds. You can also purchase round magnets to stick on the back and then you can stick the clothespin to your refrigerator door to hold your shopping list.
Just measure the width of your clothespin (probably pretty small!) and cut a strip of designer paper.  You can also measure the length and cut, but after the first one I realized I could just glue on the paper and cut off the end with my Paper Snips.  I just used my Tombow Multipurpose Liquid Glue to adhere the paper.  Then tie some bows, use two kinds of paper, bling them out with Basic Rhinestones….or whatever you want to do!
Check your craft closet for those wooden clothespins….or should I say "vintage wooden clothespins"?